1899
Fire Brigade turn-out in the country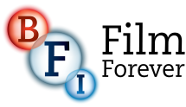 We have secured Worldwide rights from the BFI (British Film Institute) to have this wonderful Social History film displayed and viewed for all to enjoy. Thanks go to the British Film Institute (BFI) for helping us achieve this.
Not only does it gives us a glimpse of the emergency fire call-out for the Voluntary Shere and Albury Fire Brigade but also show cases our local Shere man's Charles Goodwin Norton's work who has since become an internationally recognised pioneer of early cinematography.
Volunteer firemen at Shere, Surrey, harness a fire engine and ride away. This film shows the men and women of the village working together for the good of the community.
Some facts around the time of the erection of the Fire Station:
The Victorians invented the Fire Brigade as we know it in 1866.
The population of Shere in 1881 was 1,719.
Shere School, built in 1877, for 259 children; average attendance, 140.
The Shere Fire Brigade numbers 16 men; Andrew Pables, captain.
The Allahakbarries was an amateur cricket team founded by 'Peter Pan' author J. M. Barrie, and was active from 1890 to 1913. Barrie rented a cottage in Shere and became friends with Edwin Lutyens's (Lutyens was building a village shop and lodge for Reginald Bray at the time) - Barries cricket team, The Allahakbarries played one of their first matches against Shere Fire Brigade and the firemen won 'by about 60' runs.
More Details continued at the bottom of this webpage:
---
1880s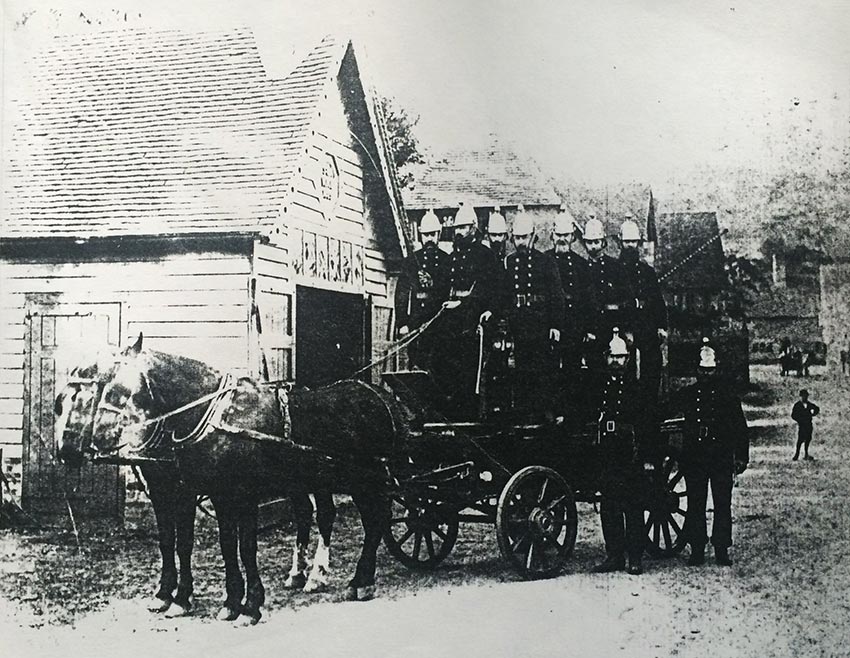 Shere and Albury Fire brigade - Middle Street - late 1880s
---
1898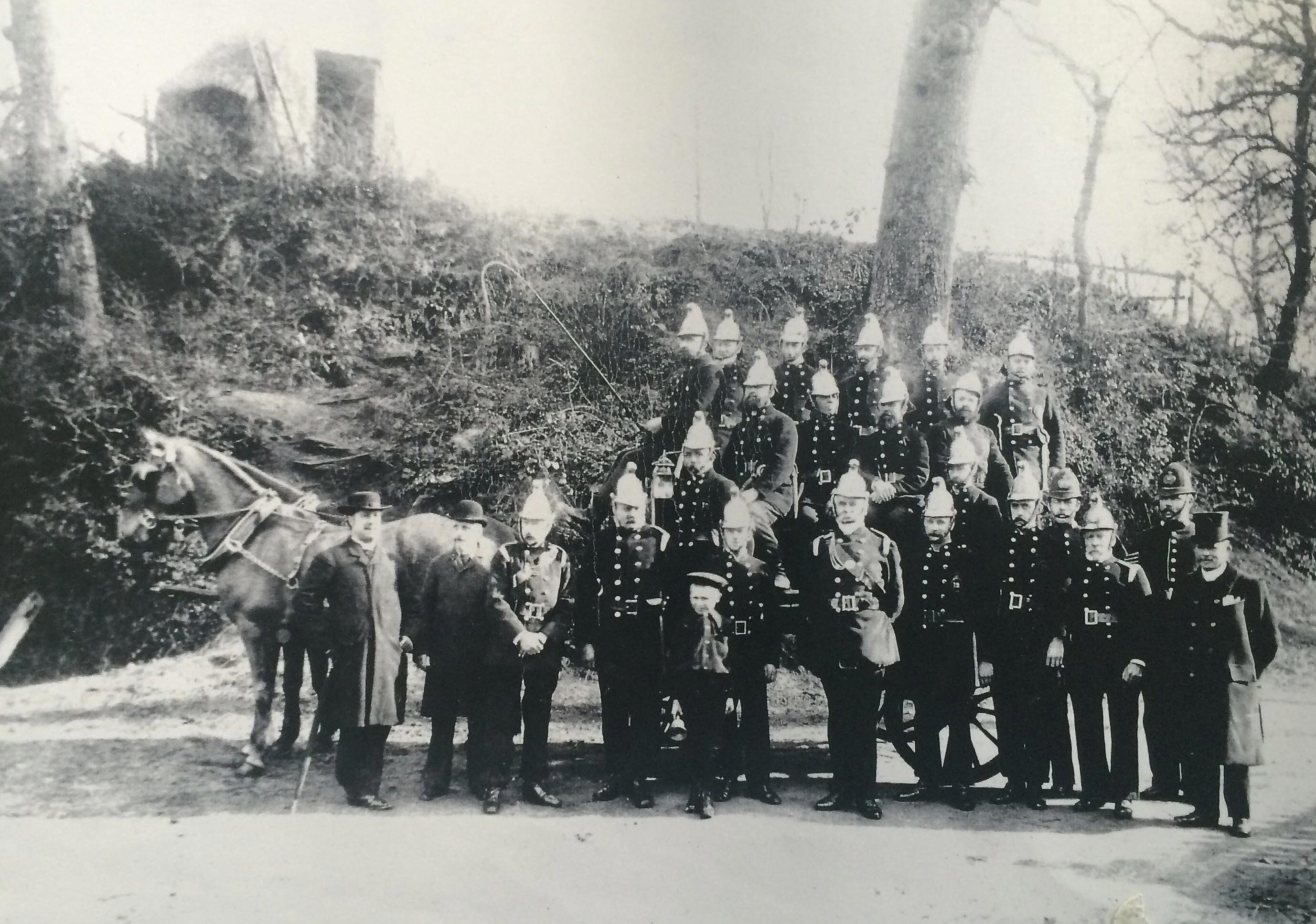 A year before the film was made, the Shere and Albury Fire brigade photo - Note the two Police officers (far right, second row)
Far left: The Rev. Frederick C. Hill - Far right - Dr. Cory
---
1909 - September 21st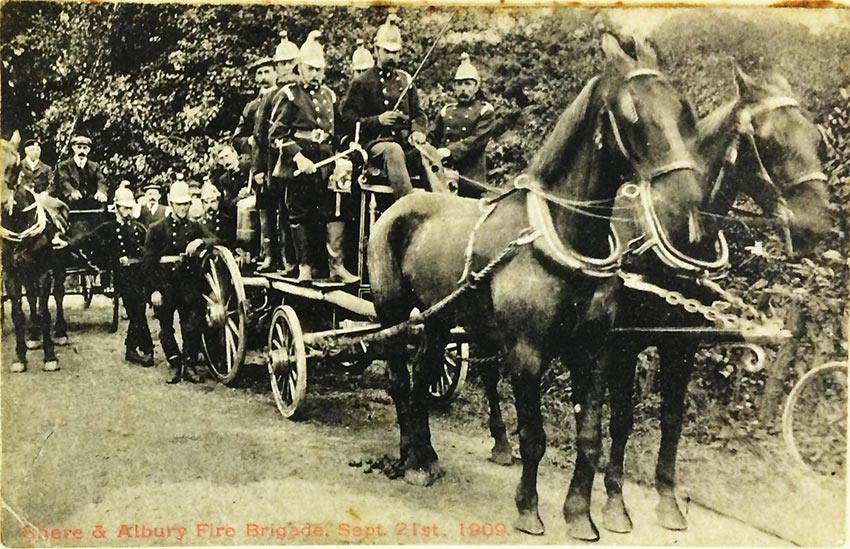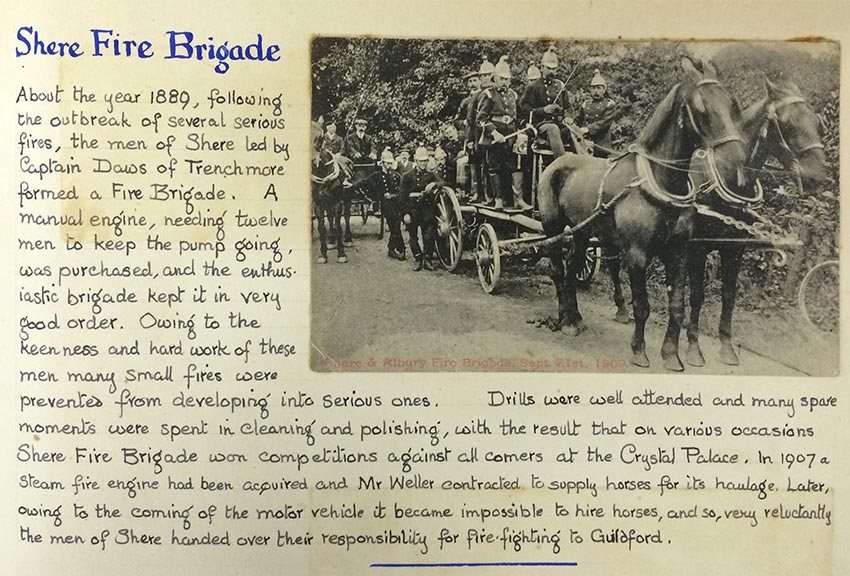 ©WI - 1949 Scrapbook - can be viewed in the Shere Museum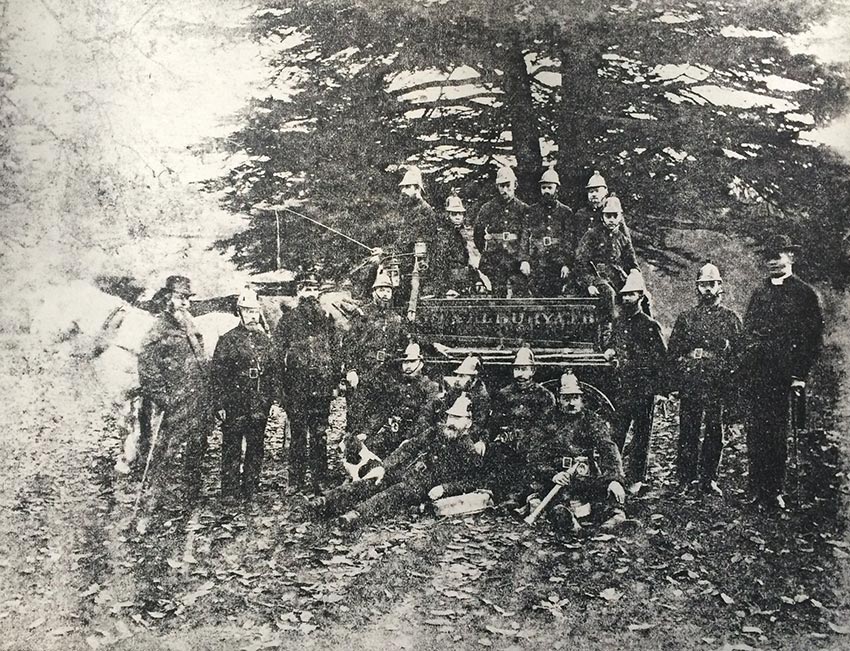 ---
1911 - October 11th
Headed note paper with Chief Officer, Richard Askew and Hon. Secretary Rev. F.C. Hill named. You can see the Reverend in the 1899 film "Fire Brigade turn-out in the country " at the top of this webpage and details below with the heading "Rector - Frederick C. Hill M.A."
Richard Askew
Shere and Albury Fire Chief
Richard Askew was also the Proprietor of the White Horse pub, so was easily on hand for the Old Fire Station.
Information can be found on Richard Askew in the 'White Horse Inn' webpage - CLICK HERE TO VIEW
---
1912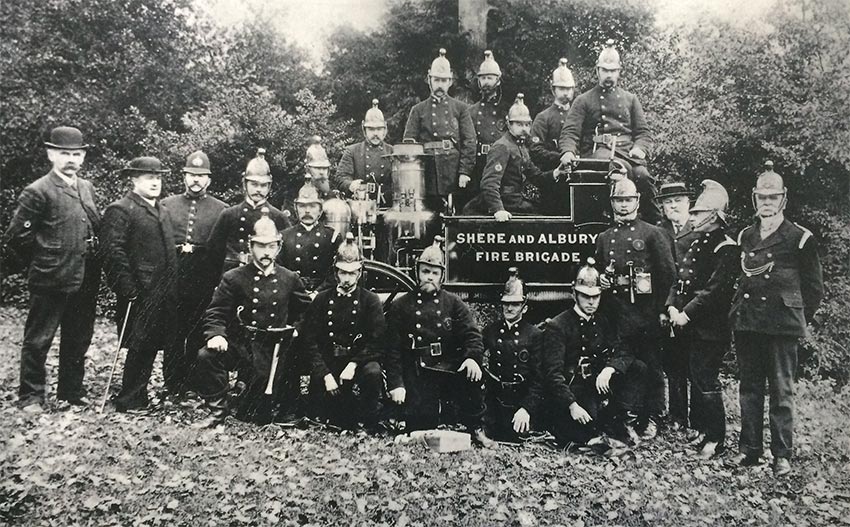 Shere and Albury Fire Brigade - powered by Steam acquired in 1907 (see WI Scrapbook article above). Far left: Dr. Cory, Rev. F.C. Hill, Police Officer. Richard Askew is sitting in the Fire Wagon above the wording "SHERE AND" (his hand is directly abive the second "E" in SHERE.
The Shere and Albury Old Fire Station was last used to fight a major fire in 1916. As this was during the first World War, one horse and various elderly men were only available to fight the blaze.
---
Shere and Albury Fire Brigade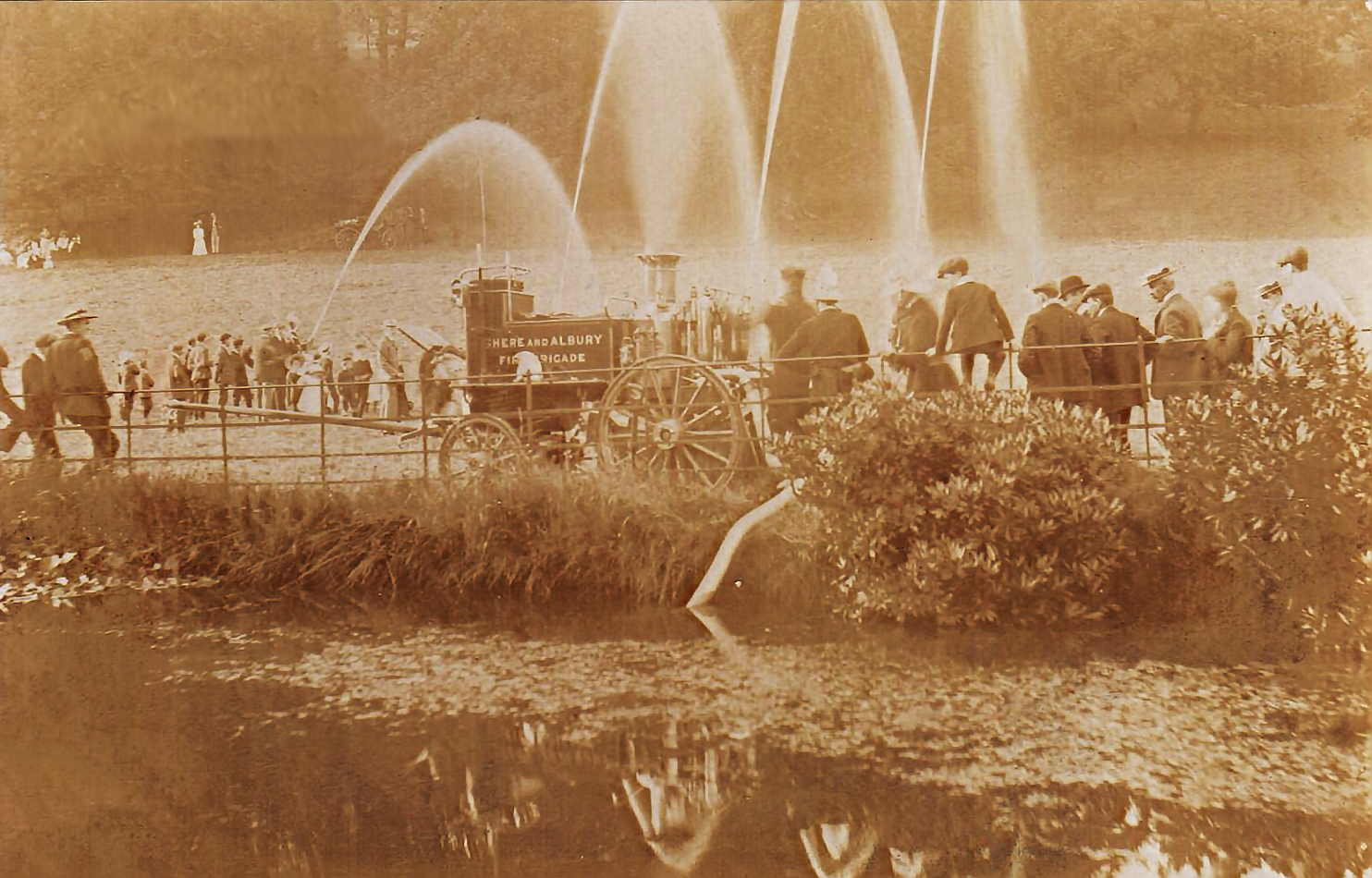 Shere and Albury Fire Brigade Demonstration day - Unsure as to the date of this postcard as it was unused and never posted.
Postcard maker: Ellenger and Burrel, Dover
---
1977 - Silver Jubilee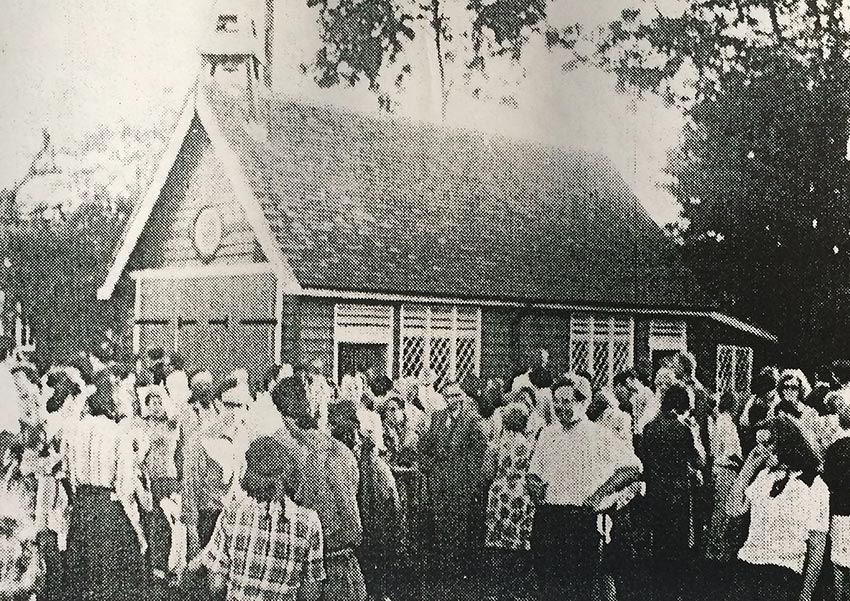 Shere converts the Old Fire Station to public lavatories.
Opened officially on Jubilee Celebrations day (May 1977) by the Shere Parish Council Chairman, Mr. P. Williams, alond with vice-chairman Mrs M. Elston by pulling the appropriate handles after the fire bell was rung. (source: Shere Museum).
---
2016 - Technical drawing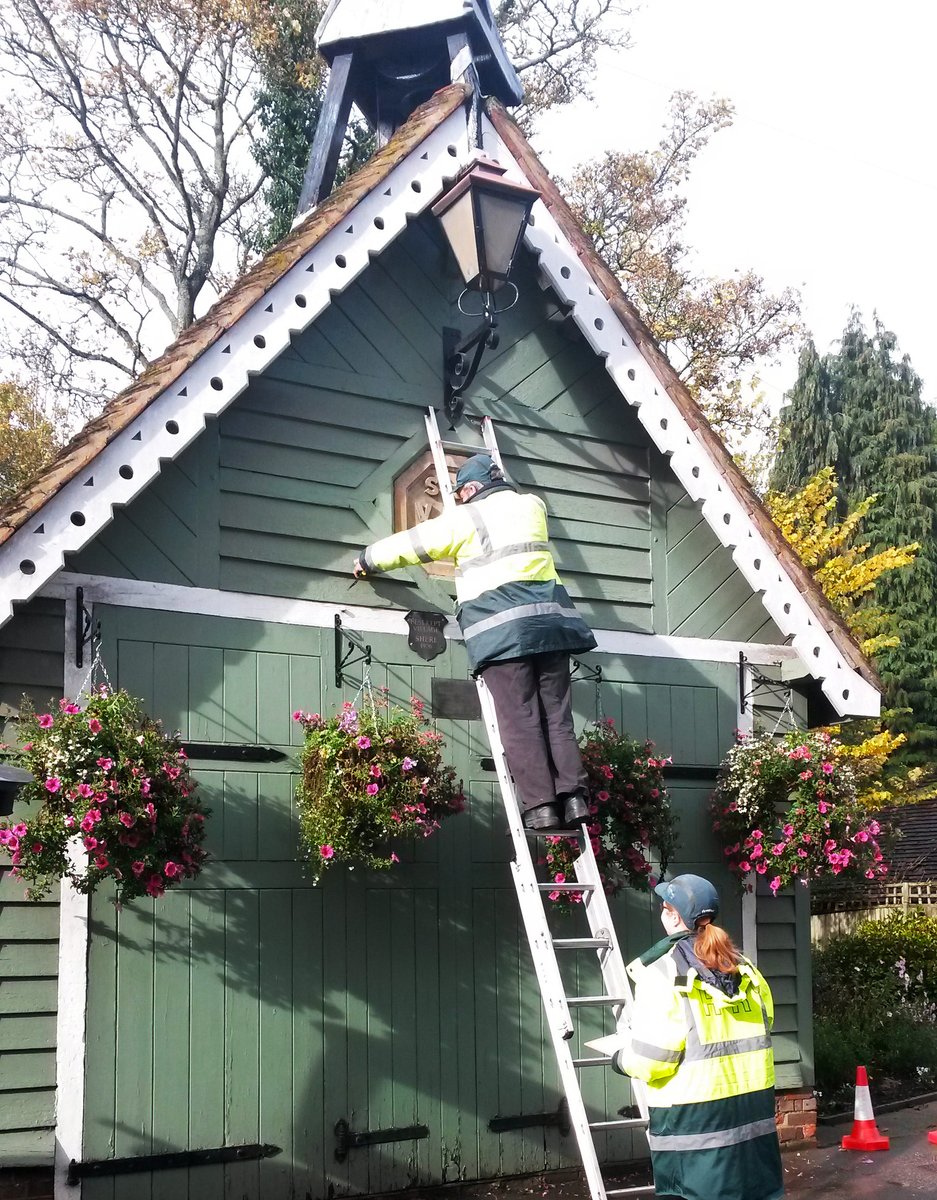 Measuring up...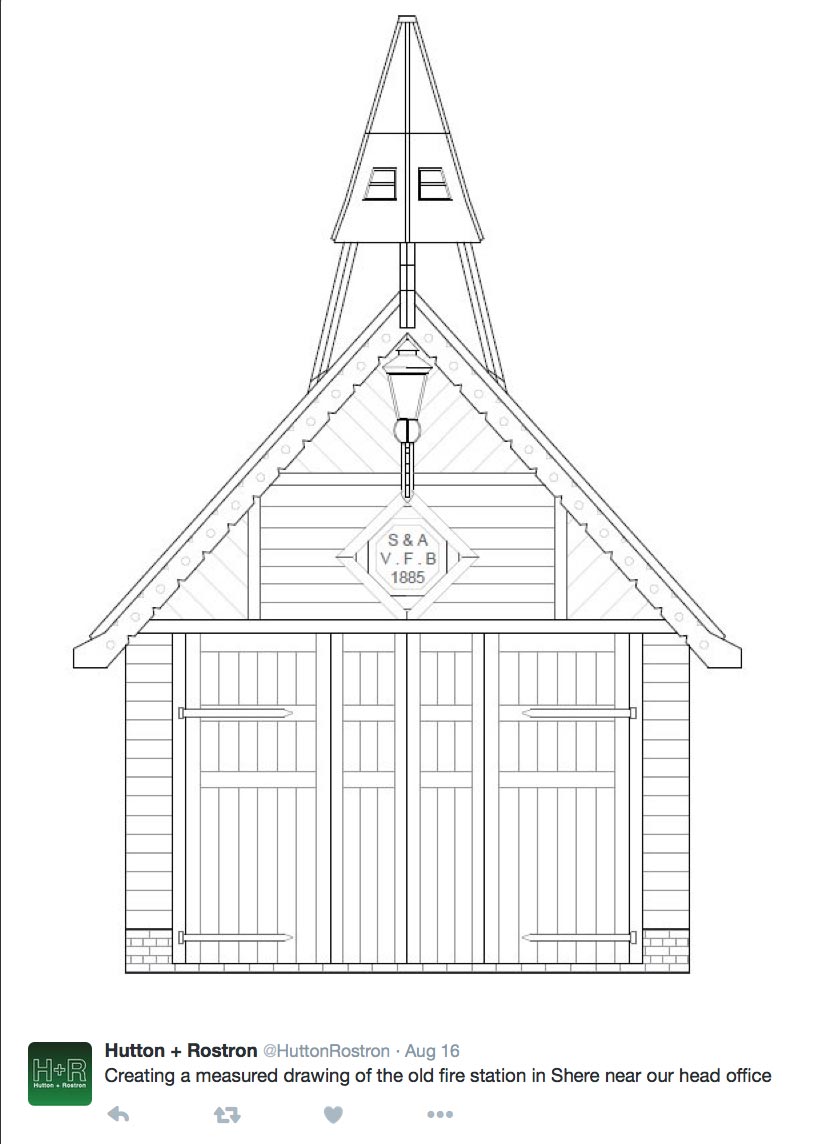 ...to create a scaled drawing
Both above photo's ©2016 Hutton + Roston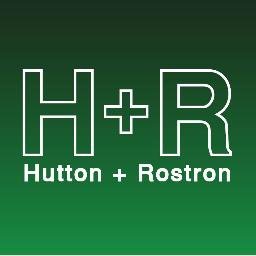 H + R are "An independent team of building professionals who investigate problems relating to building materials, occupancy and conservation."
---
1899 Fire Brigade turn-out in the country details
Rector - Frederick C. Hill M.A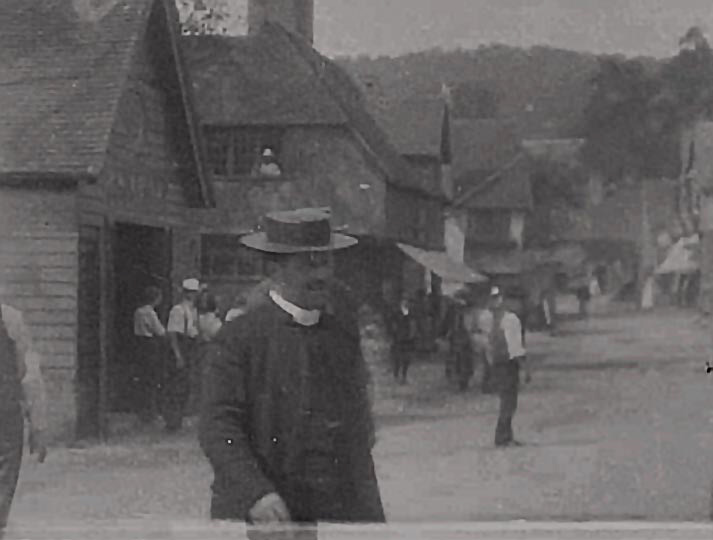 The film clearly shows the Rector of St. James' Church, Fredrick C. Hill, watching on and offering encouragement and ending with a clear view of the man and how he looked. I have often sat in the church and looked at the Rector's Board on the wall, reading the names and dates from past times. It's so difficult to visualise or form an impression of the person without a photograph but seeing our Rector of the time, Frederick walking around in the film and up close smiling, has brought the past to life.
This prompted some research.
Frederick C. Hill is buried in St. James' Church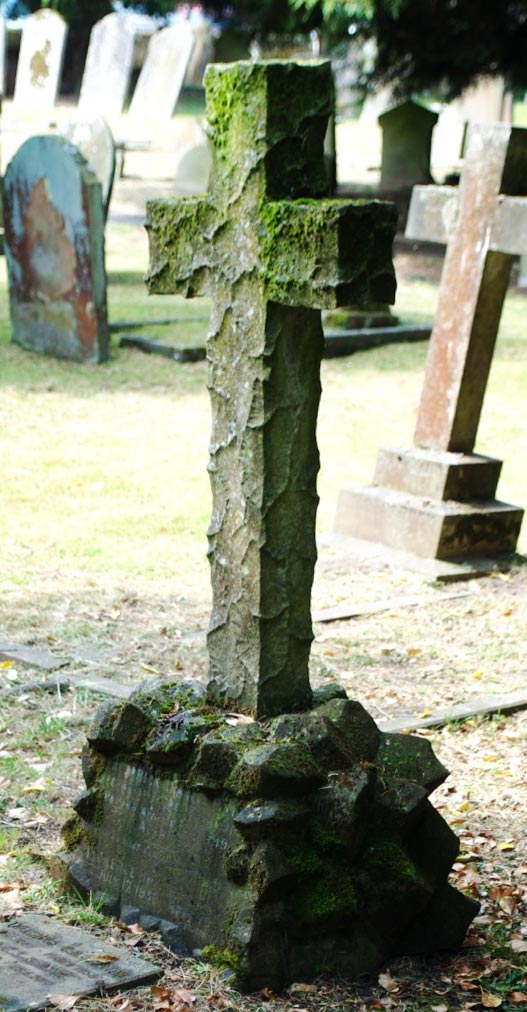 The grave is close to the gate leading from the swimming pool entrance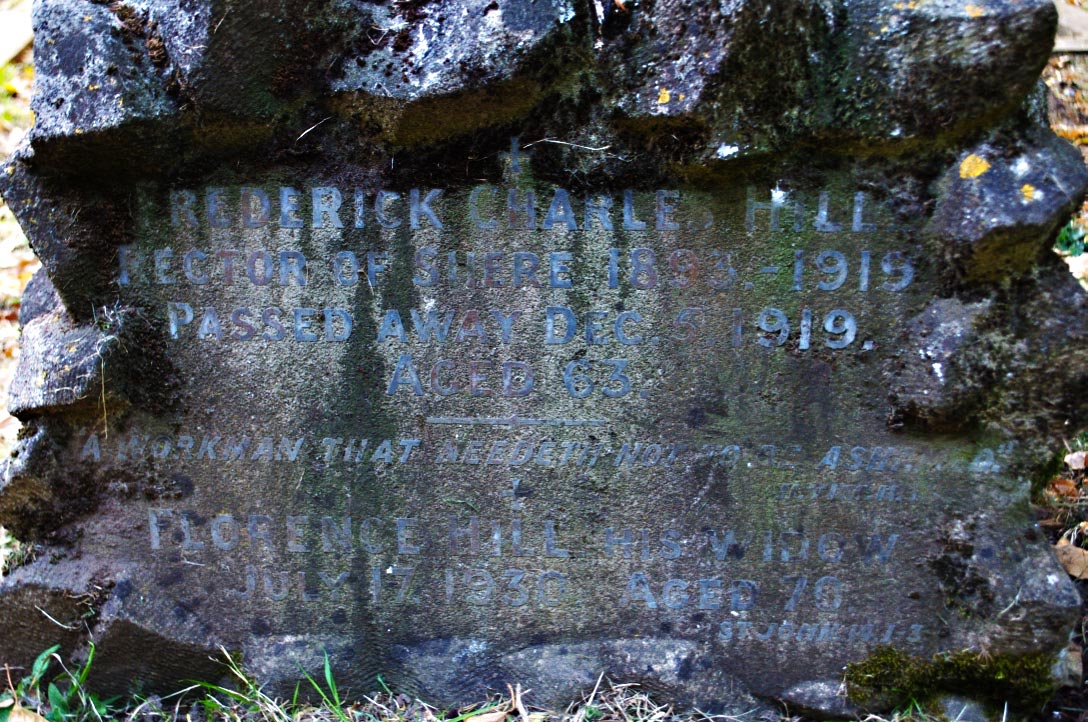 The inscription reads:

Frederick Charles Hill
Rector of Shere 1893-1919
Passed away Dec 5 1919
Aged 63

"A workman that needeth not to be ashamed."

Florence Hill his widow
July 17 1930 aged 70

St. John 14.1-3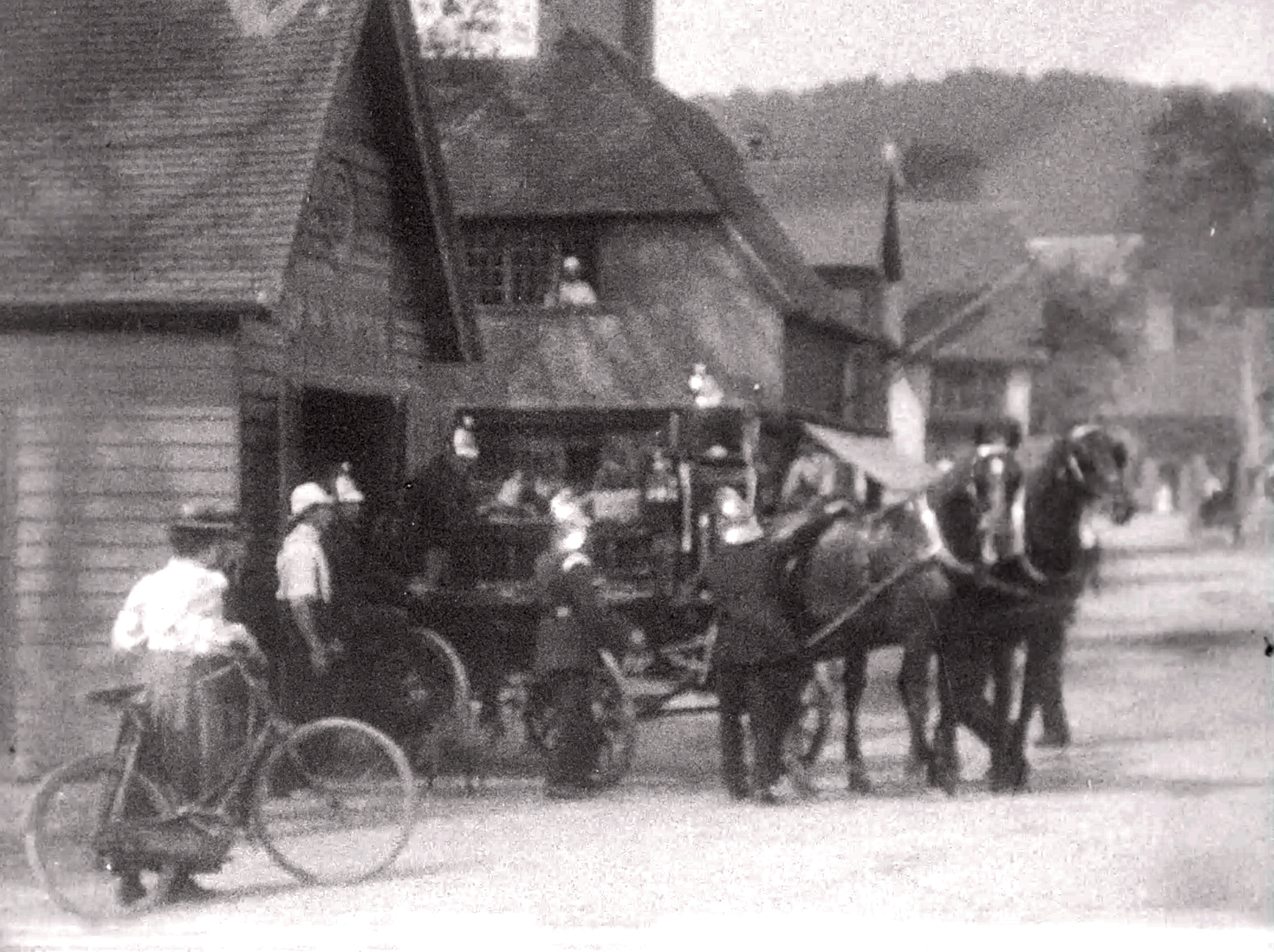 Volunteer firemen at Shere, Surrey, harness a fire engine and ride away.
Alice Norton (daughter of Film Director, Charles G. Norton) with her bicycle. Read more in the feature below.
Film Director:
Charles Goodwin Norton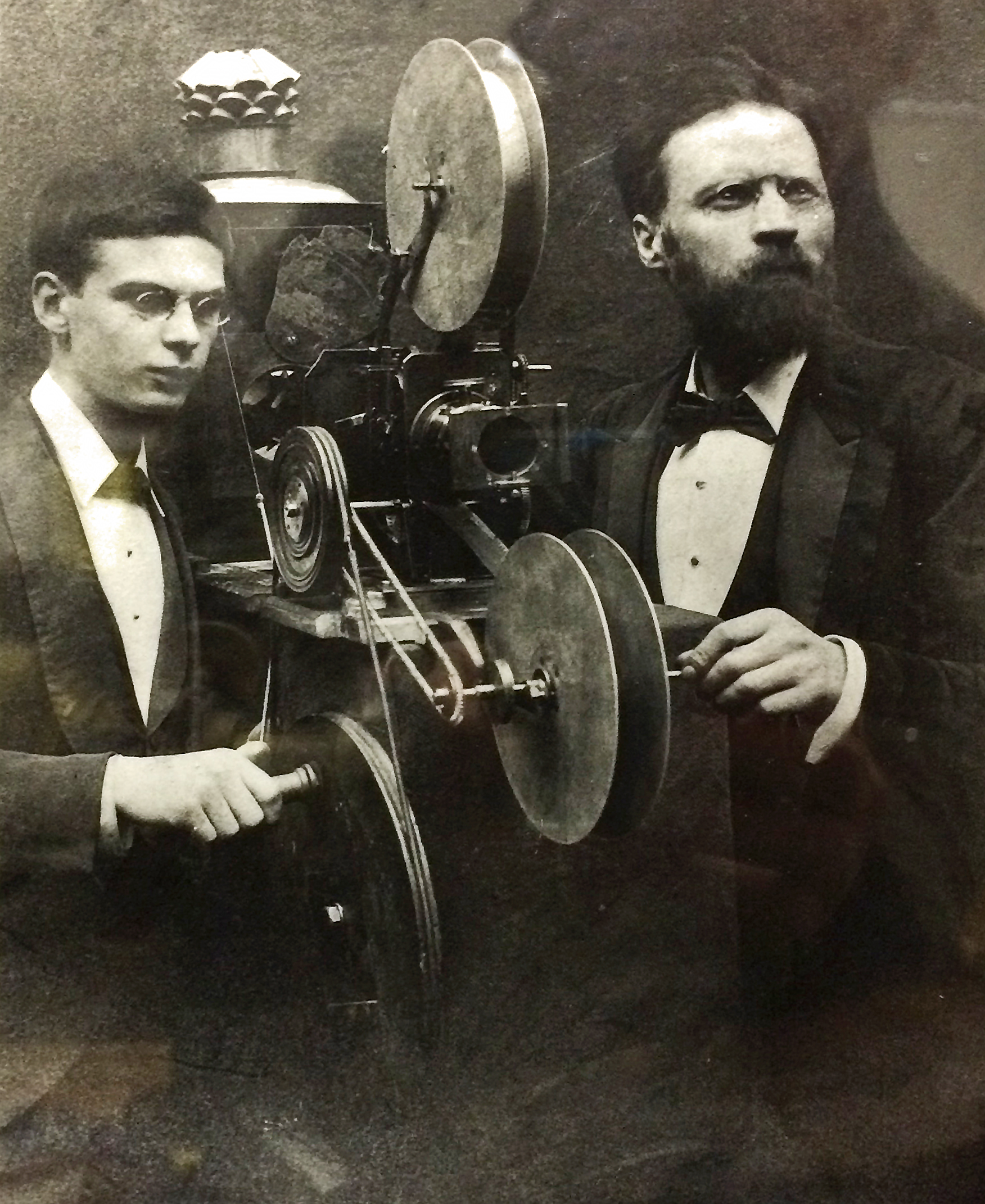 Director: Charles Goodwin Norton (above right) with GA Smith

Charles Goodwin Norton was born 8th April 1956 in Anchor Cottage, Upper Street, Shere. He was educated at the village school and then attended Guildford School.
A pioneer exhibitor and film maker who had been exhibiting films since 1896, was Charles Goodwin Norton, also a celebrated lanternist. From 1898 onwards, he began to devote more of his time to film production, for which G.A. Smith did much of the laboratory work. It is from Smith's account books that we are able to identify some of the films he made in 1899. Some of these survived and form part of the bequest made to the National Film Archive known as the Norton Collection.
In July of this year, Charles Norton made three films, one being 'Fire Brigade turn-out in the country'. This film survived and is number 11 in the Norton collection. The description given is as fllows:
"In a village street firemen run up to a small fire station, lead out the horses - fire engine, harness the horses, mount and drive off watched by a policeman and several onlookers, including a dog."
Alice Norton (daughter) in a letter dated 5th March 1961 states that this film was taken at Shere and has personal connections by which it is thought that she herself appears as one of the onlookers. As there is only one woman in the film, I can only assume that she is featured riding her bicycle.
Another film by Norton that sadly has NOT survived is 'Train Entering Shere Station'. A train enters station and Miss Alice Norton is met off the train by two little girl cousins. On a positive note, its great that we do have the 'Fire Station' film that did survive. This has given us a greater insight into social history of that time, before motor vehicles and two villages, Shere and Albury who came together as volunteers for the good of the community.
A camera used by Charles Goodwin Norton was presented to the Science Museum in London by his daughter Alice in 1950 and is probably the very camera used in the 1899 films.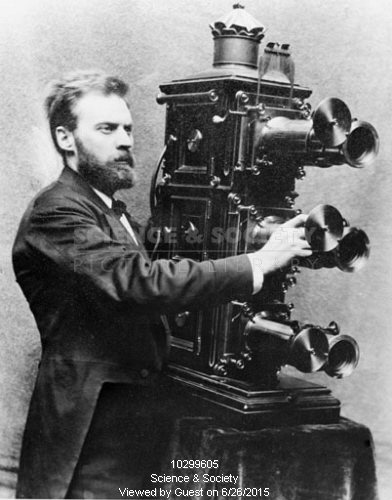 Credit © Science Museum / Science & Society Picture Library -- All rights reserved.
Charles Norton also wrote a very short biographical note under the heading "The Life of Charles Goodwin Norton", which exists in typescript only. For some reason the published account makes no mention of his Film work, although it does touch briefly on his Magic Lantern activities. For instance, he recalls how he first became interested in the subject:
"I often went to book sales, and bought up remaiders, mostly novels, and on one occasion there was a magic lantern and a lot of slides, which I purchased for 7s 6d. I gave several private shows and then launched out a bit and bought a double lantern and limelight apparatus complete, and with it gave my first public show in my native village - Shere."
Norton became well-known for his public lantern entertainments, introducing films into his programme in 1896, and producing a number of films on a Velograph camera. Norton also gave shows for the Empress Eugenie, 1896, the Royal Family at Buckingham Palace, 1897, and King Edward VII and family in 1901. He may also have been a projectionist for Harrods department store at this period.
Charles died in 1940 at the age of 84.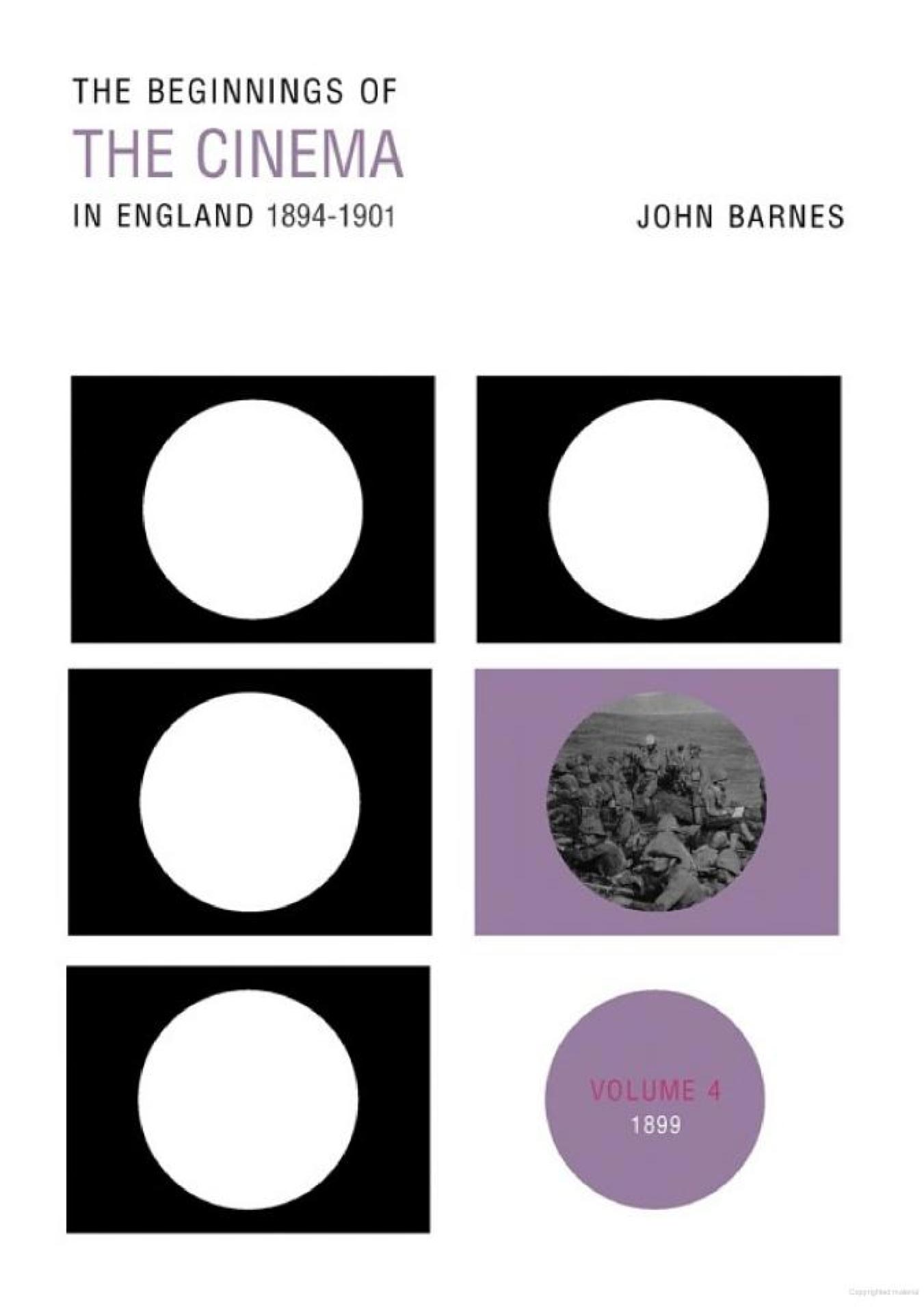 CHARLES GOODWIN NORTON FILMOGRAPHY
DIRECTOR:
More information can be found here: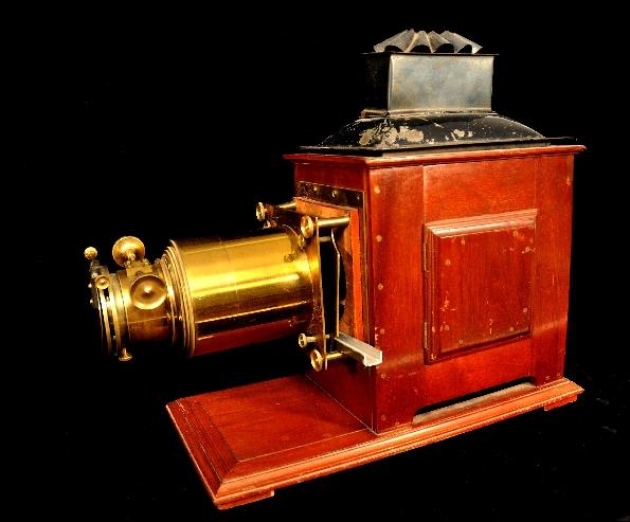 Found at Shere Museum, this mahogany and brass 'magic' lantern.
This and other information on Charles Goodwin Norton can be found at the SHERE museum.
I hope you have enjoyed this unique Film, Created and Directed by Shere born Charles Goodwin Norton about our own Village Fire Brigade.
CONTACT ME IF YOU ENJOYED WATCHING
| | |
| --- | --- |
| | |
| January 2015 | July 2015 |
Thank you to the Shere Parish Magazine for also help and encouragement to secure this piece of archive Film by raising awareness in both the January and July 2015 Parish magazines.