Photographs of Shere - Past and Present (1850 onwards)
Please contact me if you have any old photographs of Shere, so that we can all enjoy looking back over the ages.
The following photo's, Copyright remains with the photographer, all rights reserved.
Quick Link to Years:

1850 - 1899
|
1900 - 1949
|
1950 - 1999
|
2000
Photographs in chronological date order (1850 - 1899):

1850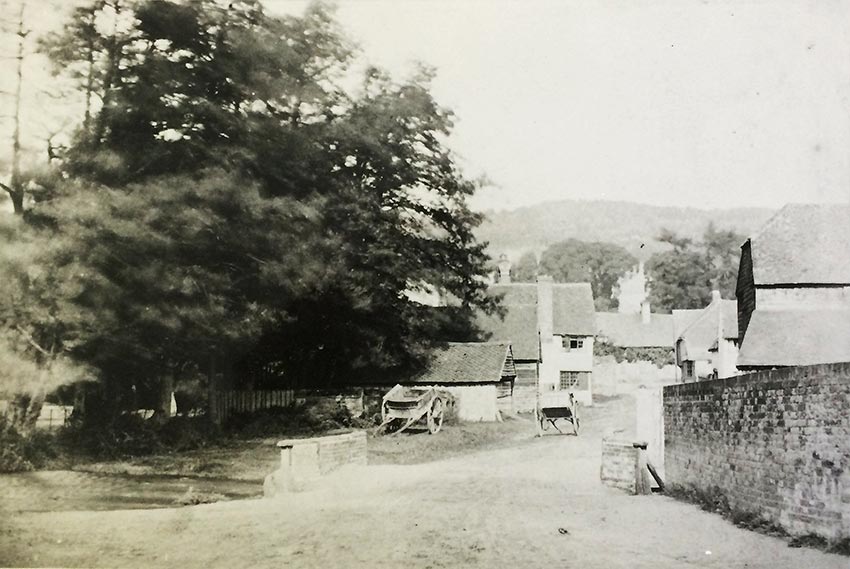 Earliest photo of Shere Village - Taken by Sir Henry Cole
Pre- Fire Station and Cattle 'Pound'
View SIR HENRY COLE webpage
Sir Henry Cole was also a keen photographer and the above photo taken in Shere in 1850 is one of the earliest photographs available of the village. photo © Victoria and Albert Museum, London all rights reserved
1850 - Gomshall Lane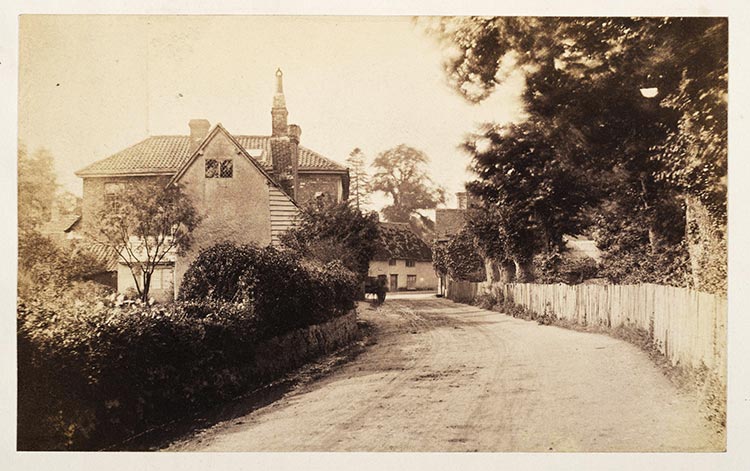 Another Sir Henry Cole photo entering Shere down Gomshall Lane - Note: this was before the Village Hall and Working Mens Club (now Museum) were built on the right hand side. You can see 'Manor Cottage' on the end. photo ©Victoria and Albert Museum, London - all rights reserved

late 1870s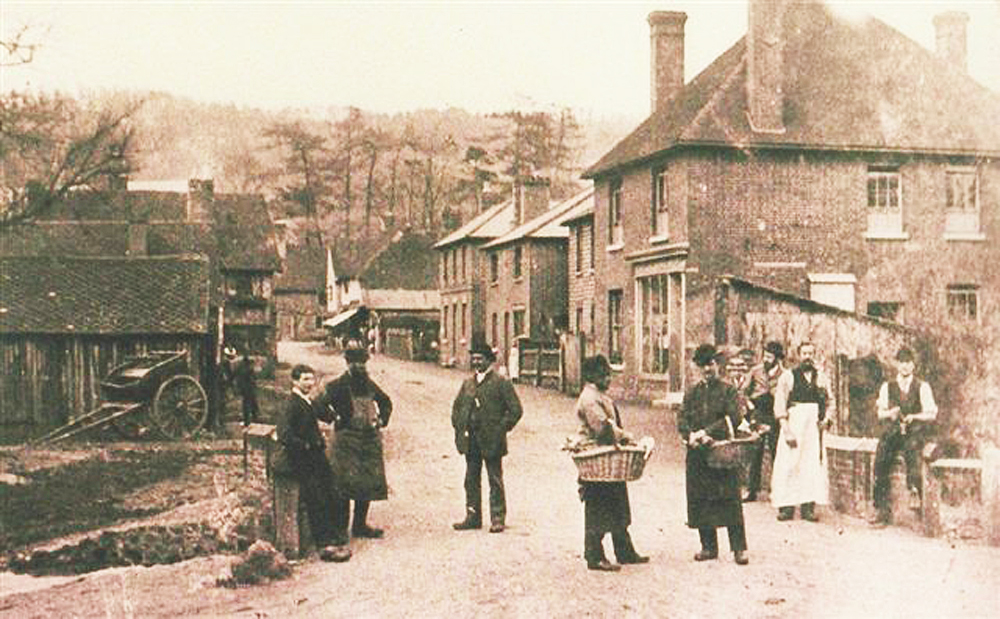 Various shop traders pose on the bridge in Middle Street
Dated late 1870s as the 'Old Fire Station' is yet to be built

late 1880s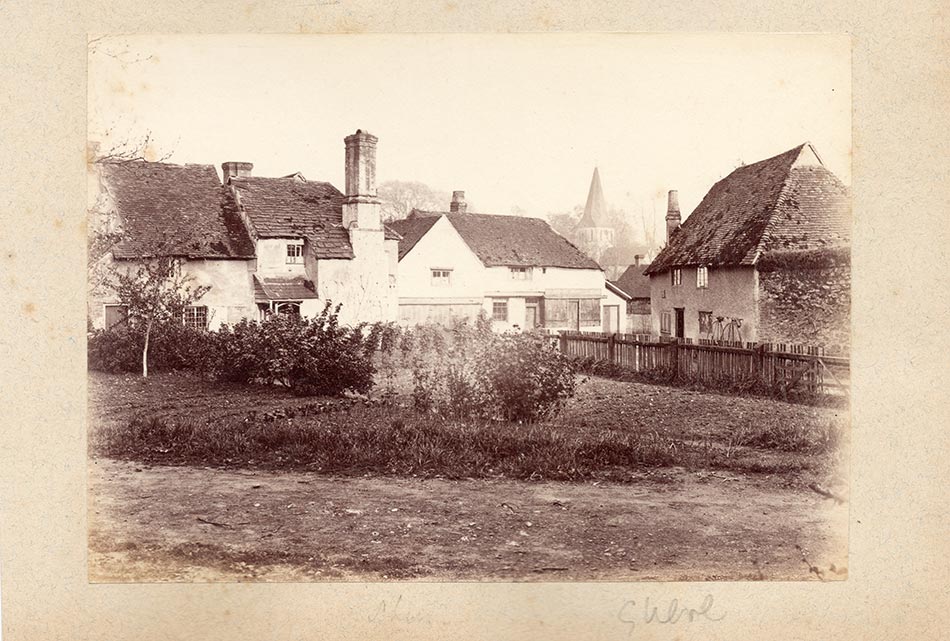 View across the garden of Vine Cottage - Manor Cottage on the far right. You can see a lot of detail, when zooming in on various parts of the photo.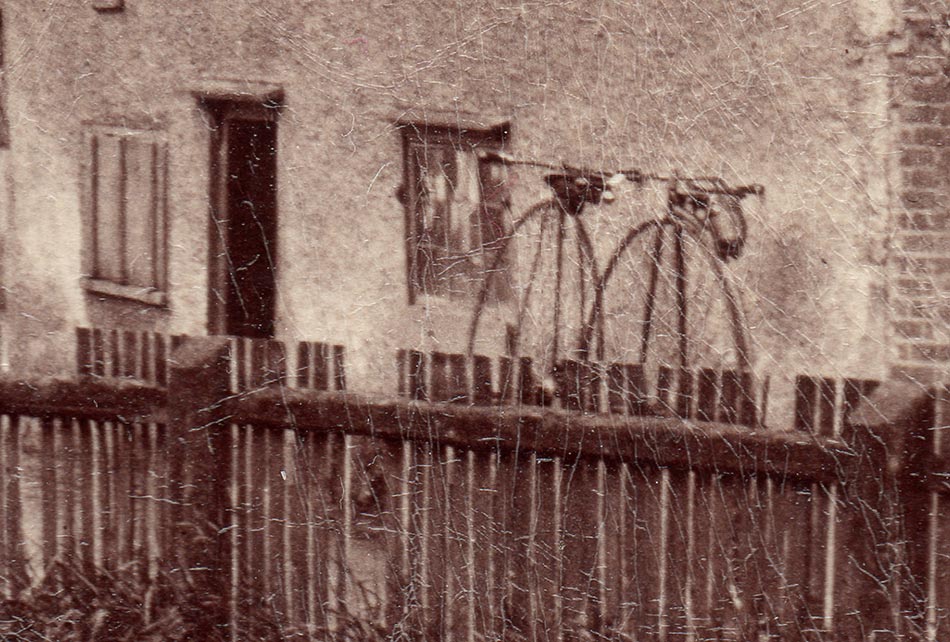 Two penny farthings propped up against the wall of Manor Cottage
Dated pre-1885 as the 'Old Fire Station' is yet to be built

abt 1880s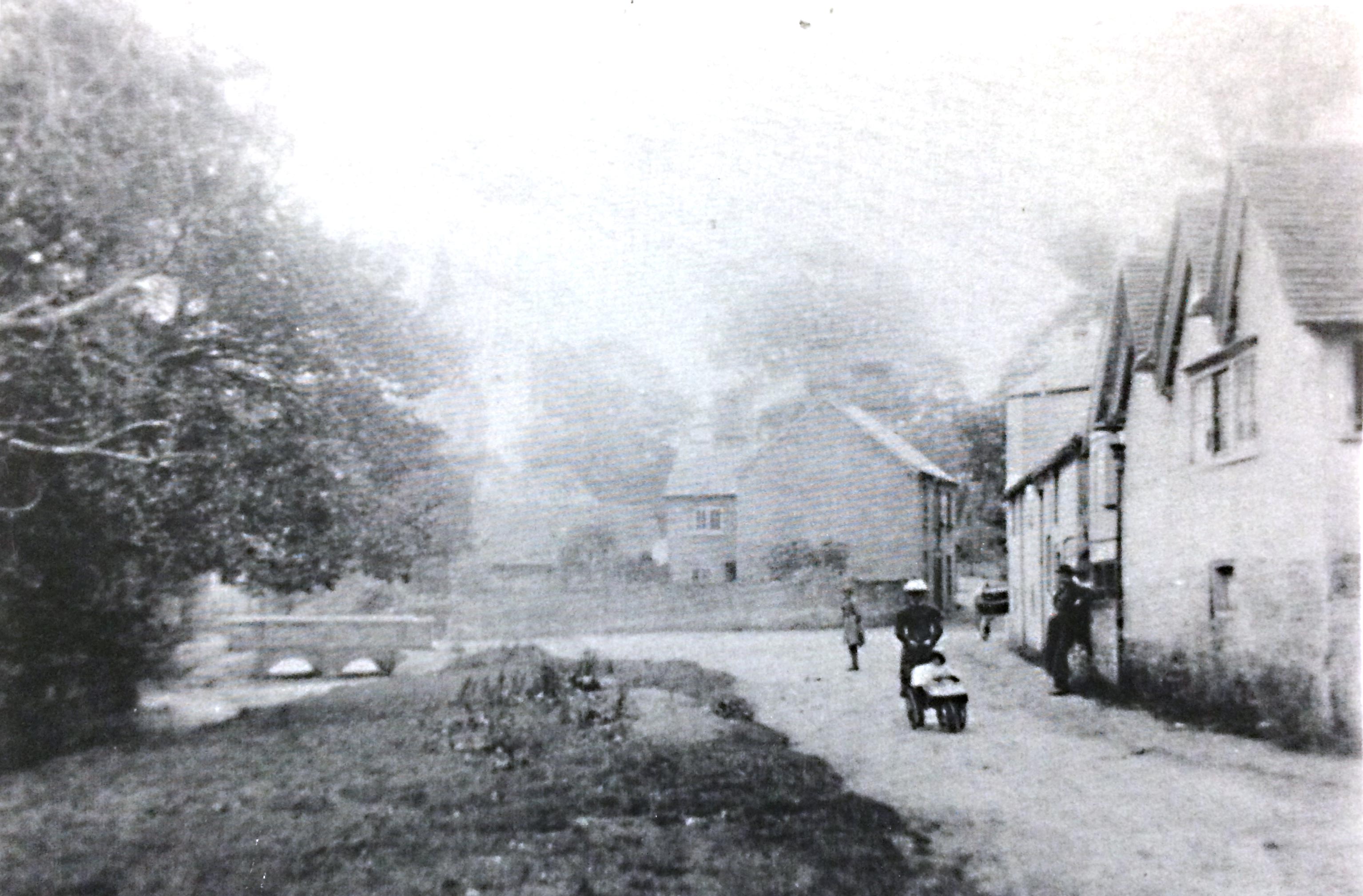 Lower Street looking towards The Square and the Tillingbourne Bridge in Middle Street - Unsure as to the exact date of this photo but the lady pushing the pram is dressed in Victorian clothes - above photo © Shere Museum
1890 - Lower Street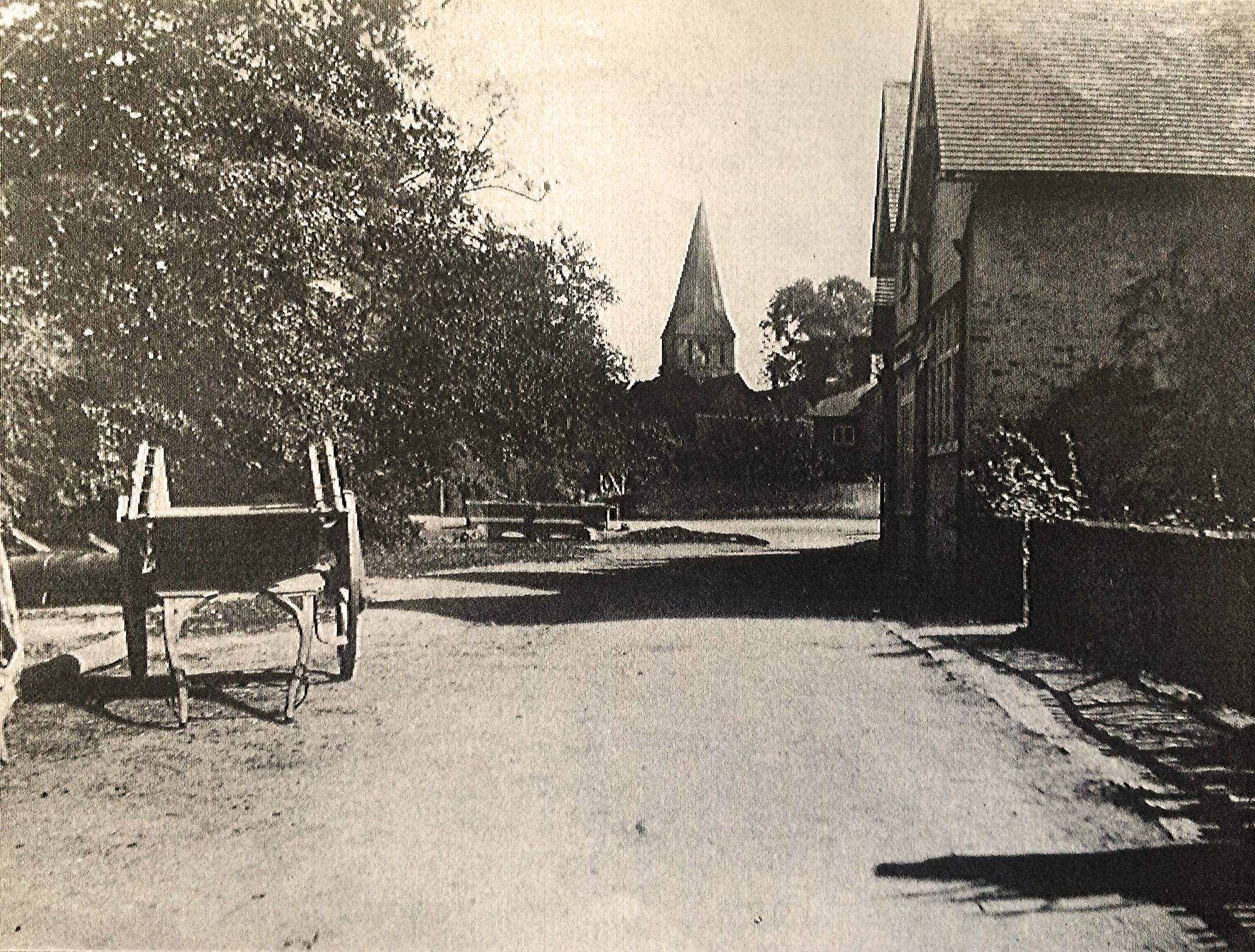 Lower Street looking towards The Square and the Tillingbourne Bridge in Middle Street - above photo © Shere Museum
1890 - White Horse Pub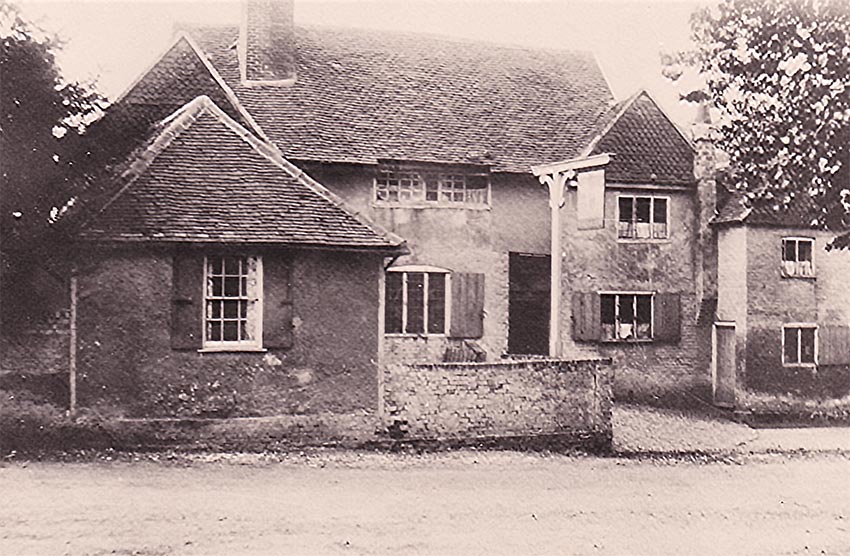 White Horse Pub - Note the Pub sign and the second door (right) positions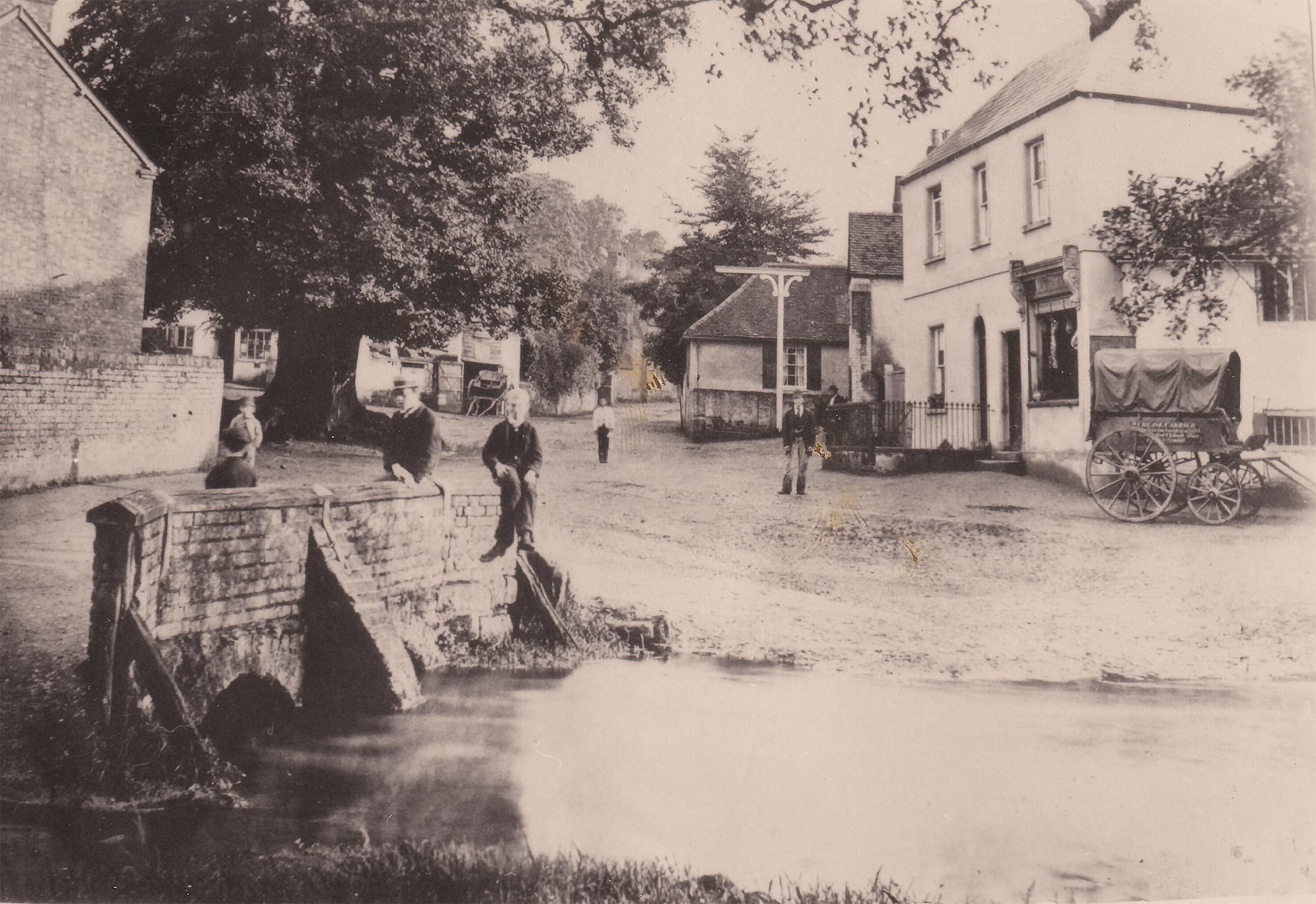 Note the missing 'White Horse' sign, although the wooden structure to hold it is there - Not sure if this pre-dates the photo above?
both above photo's © Shere Museum

Aug/September 1892 - Photo album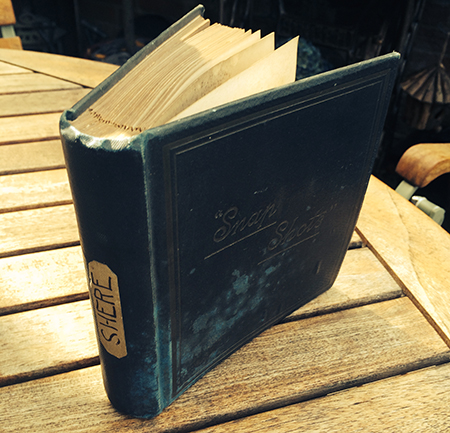 Exciting Social History find
An original small photo album dating from 1892 and containing 30 views taken in and around our village of Shere.
Photo captions, "Next Door", "Opposite", "Cottage on the Hill" etc. offer a fascinating glimpse into the past. One photo that gives us a clue as to where the owner of the album once belonged to is a photo titled 'Headquarters'', which is 'Burrow Down' house (next to the garage) in Upper Street.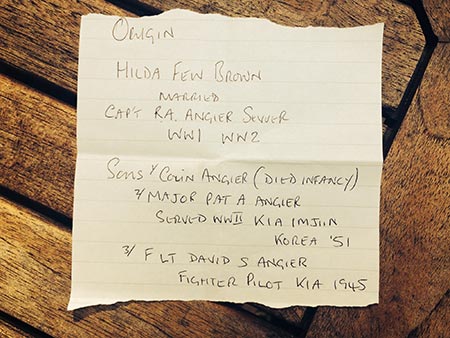 In addition, a sheet of paper was tucked in the album: "Origin, Hilda Few Brown - Married Capt R A Angier, served WW1-WW2"... - VIEW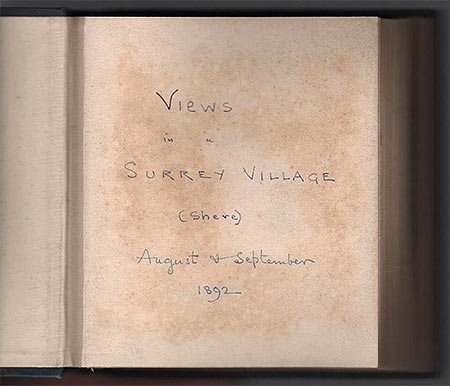 This is a wonderful social history item with so many images of a single English village of this era, not only for Shere but also for Surrey - all photos taken in August and September 1892.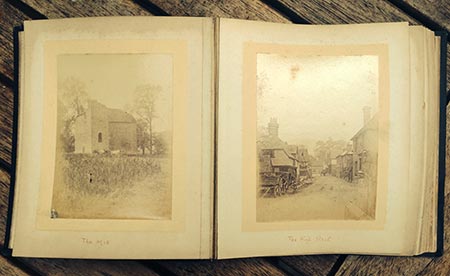 1894 - East Lodge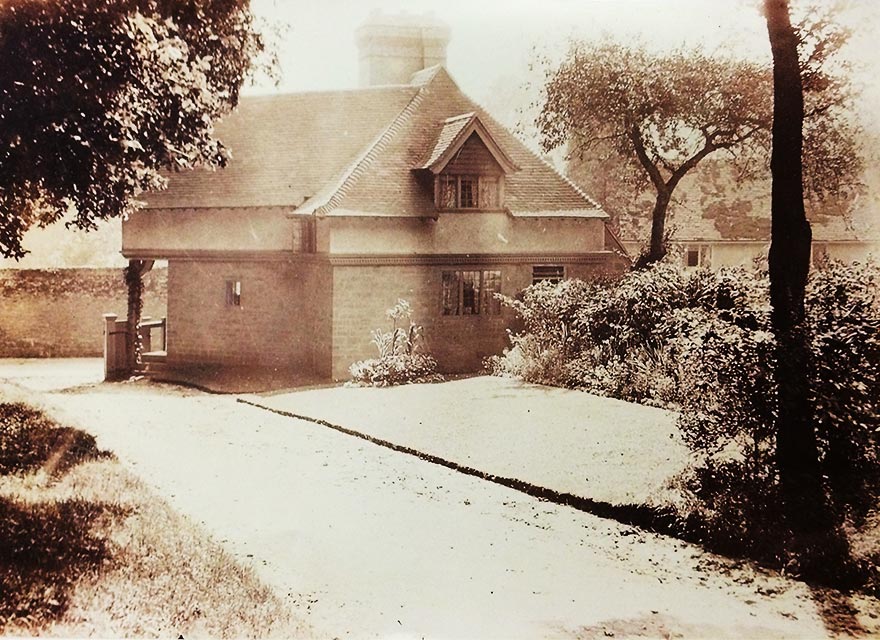 TQ 0647-0747 SHERE CP UPPER STREET
(North Side)

12/282 East Lodge

Lodge. 1894 by Sir Edwin Lutyens. Snecked sandstone below, colourwashed roughcast above; plain tiled roofs. Compact Y-shaped plan with gabled bay at 45 degress to street. Two storeys, jettied on first floor over dentilled moulded bressumer and braced post to end right. Shallow relief decoration to gabled bargeboards. Massive triple stack under corbelled top to angle to ranges facing street to left. One four-
light leaded first floor casement on dentilled cill and one leaded square bay window to ground floor left. Planked door to right set back and approached up a flight of steps. Right hand return front: deep eaves, dentilled band over ground floor and tall dormer to rear.

Listing NGR: TQ0728547954
The above photo is taken from the 'Manor House Drive' looking bck towards Upper Street - Unsure as to the date that the photo was taken.
VIEW LARGER PHOTO | © Listing text - British Listed Buildings
Sir Edwin Lutyens (famous for designing the Cenotaph in Whitehall, London and The Thiepval Memorial which records the names of over 72,000 soldiers who died in the Battles of the Somme of the First World War between 1915 and 1918, with no known grave. More details on The Thiepval Memorial).
Sir Edwin Lutyens was well know here in Shere as he designed various buildings in our village:
The Lych Gate was designed in 1902
His designs for the Bray family, include The Manor House Lodge (as described above) and Western Cottages (1892) in Upper Street and the Summers' Barber's Shop (1894) in Middle Street (now used as the Tea Room, "The Dabbling Duck", which was formely known as "The Lucky Duck", and before then "Asters Tea Shop"). Hazelhatch is a beautiful country house in Burrows Cross and built in 1897, in the Arts and Crafts style. The first recorded conveyance was from Lord Ashcombe to Lady Sarah Spencer, after which the property was subsequently owned by the well-known Bray family. The house, which is Grade II Listed, was designed by Sir Edwin Lutyens in collaboration with Gertrude Jekyll, the well-known garden designer.
1896 - May
1899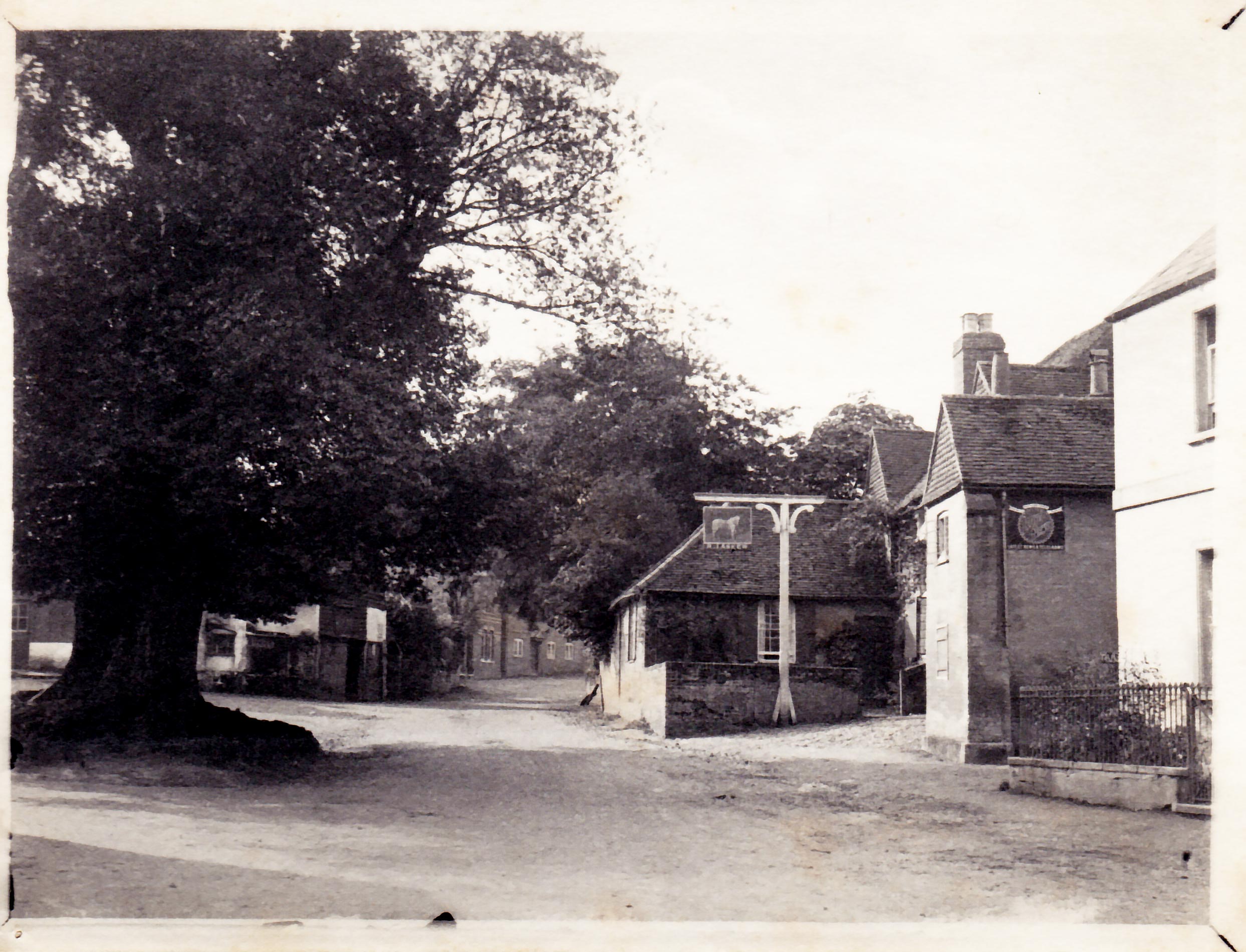 The White Horse Pub looking up towards Shere Lane
White Horse Pub, Shere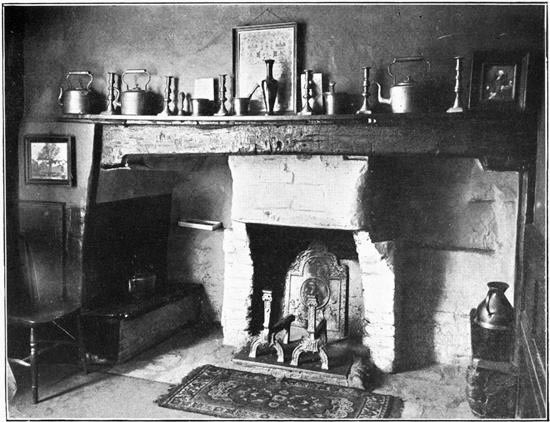 THE INGLE-NOOK, "WHITE HORSE" INN, SHERE.
"One of the finest of these surviving examples is that of the "White Horse" at Shere, an old-world inn in midst of an equally old-world village. Shere is the most picturesque of those rural villages—Wotton, Abinger Hatch, Gomshall, Shere, Albury and Shalford—strung along the road that runs, lovely, under the southern shoulders of the bold South Downs, between Reigate and Guildford. Modern times have passed it by, and the grey Norman church, a huge and ancient tree, and the old "White Horse," have a very special quiet nook to themselves. One would not like to hazard too close a guess as to the antiquity of the "White Horse," whose sign is perhaps the only new thing about it—and that is a picturesque acquisition. The inn is, of course, not of the Norman and early English antiquity of the church, but it was built, let us say, "once upon a time"; which sounds vaguely impressive, and in doing so begins to do justice to the old-world air of the inn. The fine ingle-nook pictured here is to be found in the parlour, and is furnished, as usual in such hospitable contrivances, with a seat on either side and recesses for mugs and glasses. A fine array of copper kettles and brass pots, candlesticks and apothecaries' mortars, together with an old sampler, runs along the wide beam, and on the hearth are a beautiful pair of fire-dogs and an elaborate cast-iron fireback"
Taken from The Old Inns of Old England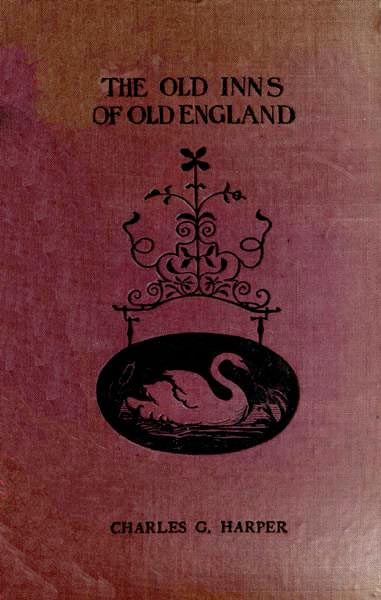 The White Horse Pub
The Project Gutenberg EBook of The Old Inns of Old England,
Volume II (of 2), by Charles G. Harper.

Title: The Old Inns of Old England, Volume II (of 2)
A Picturesque Account of the Ancient and Storied Hostelries of Our Own Country  
Author: Charles G. Harper  Illustrator: Charles G. Harper

SOURCE
Special Thanks...
...to Shere Museum for access and permission to publish some of the older photographs from their archives - Please visit and support the Village Museum on Gomshall Lane, Shere.