Paintings of Shere
Before the age of the photograph, the only way of illustrating or describing a village, other than the writen word was through the medium
of paintings. Shere, it has been said, "is one of the prettiest villages in Surrey, often claimed by many as the most beautiful" and not
without reason. It is truly part of England's "garden". Quote by T. A. Wilkie (Surrey County Journal)
The following paintings show the village through the ages, painted in various mediums. Copyright remains with the artist, all rights reserved.
Shere Paintings / drawings arranged in Chronological date order...
...starting with oldest first - If you see any paintings that do not appear on this page, please drop me a line. Tristan Greatrex


Quick Links to Years:
1951

SHERE - 1951
Painter: James W Glenn
Medium: Watercolour - Location: Shere
circa 1950s
Village Market, Shere
Painter: Lilian Fendig (IN, 1912-1985)
Medium: Watercolour
Location: The Square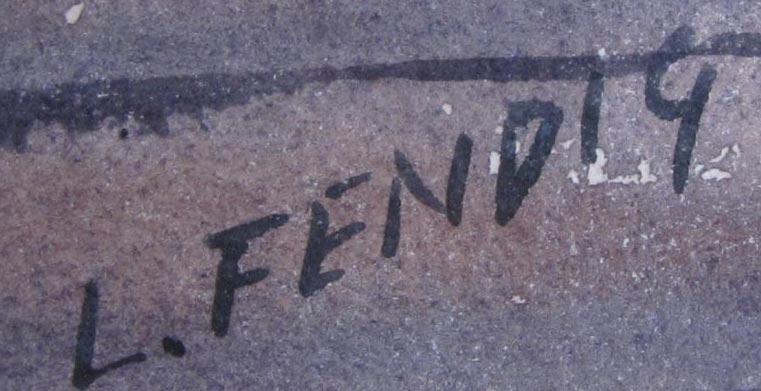 Titled 'Village Market, Shere' was sold at auction for $125 at Liveauctioneers. The painting has to be pre 1966 as Dick and Elaine (Collins green grocers) opened their shop that year. Previously it was Grovers, so my guess is that this painting is circa 1950s. Will try and find more information.
1954 - Margaret Winnifred Tarrant

Taken from 'The Joy Book'
Illustrator: MARGARET TARRANT (1888-1959)

From the late 1900s, Margaret Tarrant was preoccupied with chronicling innocent childhood in its many moods and its great variety of activities.
From 1920, her talents were channelled by her most important business relationship, with the Medici Society, which still publishes her books, cards and calendars today. Though her approach could seem highly idealised, even romanticised, its success lies in the degree to which it was grounded in close observation and the discipline of drawing from life.
Margaret Tarrant was born in Battersea, London and grew up in Margate and Clapham. She was educated at Clapham High School (1898-1905), where she won several prizes for drawing. In 1905 she started to train as an art teacher, but a lack of confidence in her ability to teach led her father, Percy Tarrant, to guide her into his own profession of illustrator. Soon after her move to Guildhall, Surrey, she illustrated her first book, a news edition of Kingsley's The Water Babies (1908), and, from then on, was preoccupied with chronicling childhood in its many moods, its great variety of activities, and its innocence. Developing her talents through many and varied commissions and through further studies at Heatherley's (1918, 1921, 1923), she began her most important business relationship only in 1920, with the Medici Society; ranging from books to calendars, Tarrant's work for Medici gave her wide exposure and made her a much-loved figure throughout the nineteen-twenties and thirties. Following the death of her parents in 1934, she moved to Peaslake and made friends with the artist Molly Brett, whom she met on a course at Guildford School of Art. However, she was able to accept her circumstances and return to painting only in 1936, when the Medici Society sent her to Palestine; from that time, her religious paintings took on a new aspect. She continued to work until 1953, when her health, and particularly her eye-sight, deteriorated. In 1958, she finally let her house in Peaslake, and joined Molly Brett in Cornwall, where, on 28 July 1959, she died.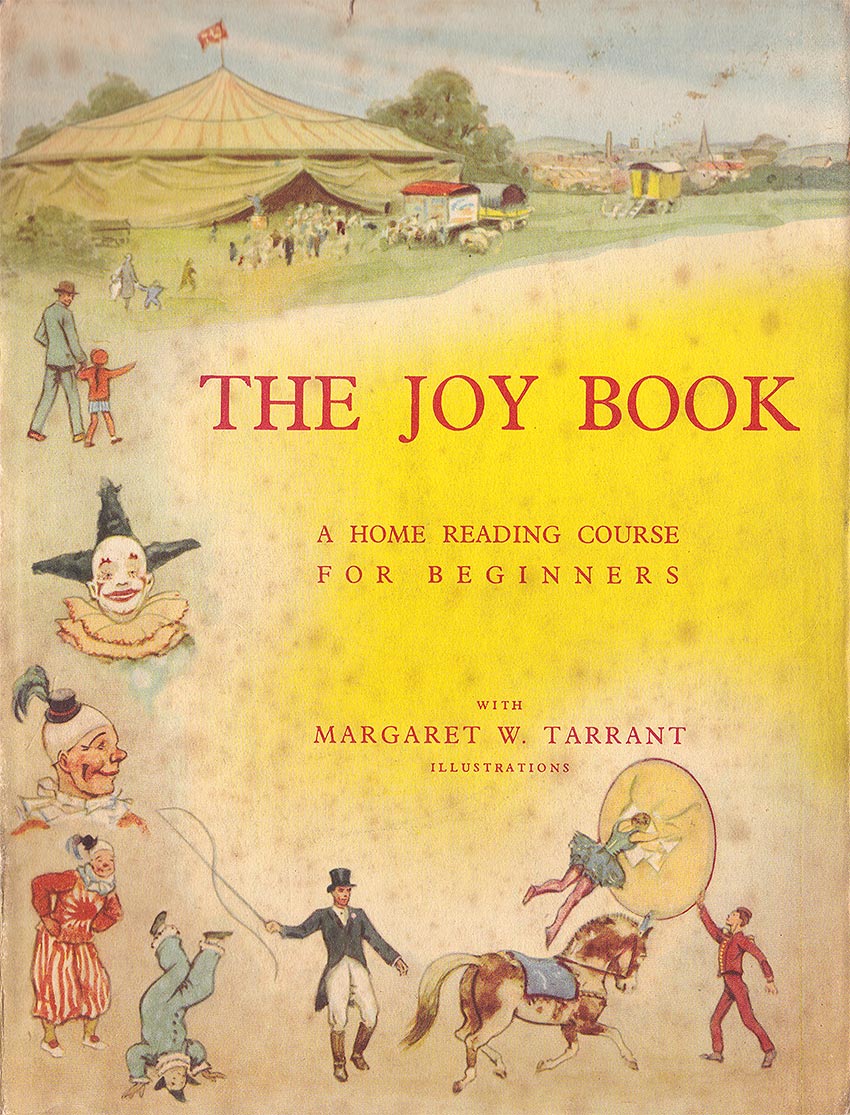 The Joy Book - Published in 1954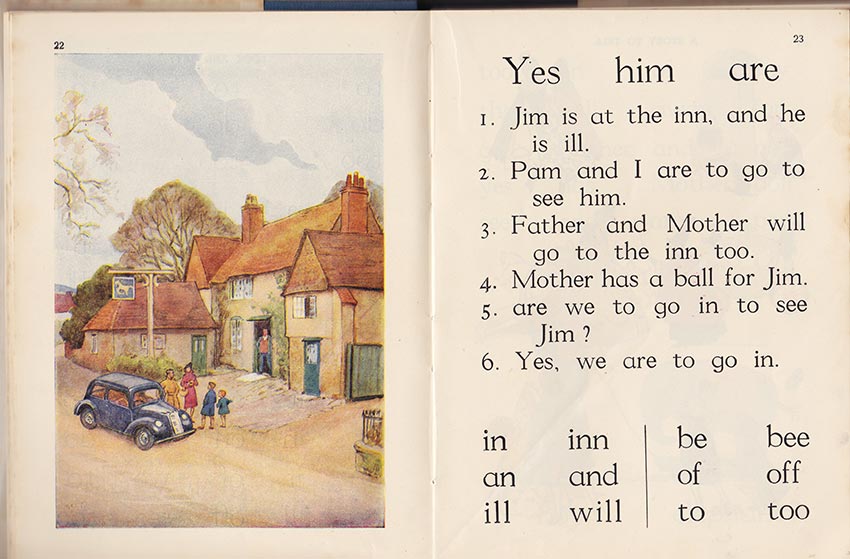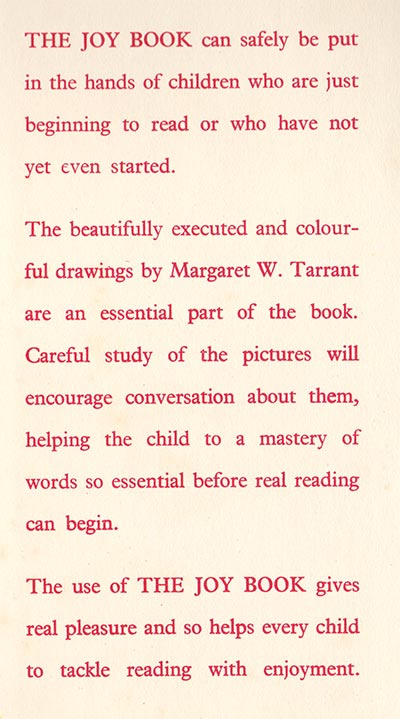 Cover Introduction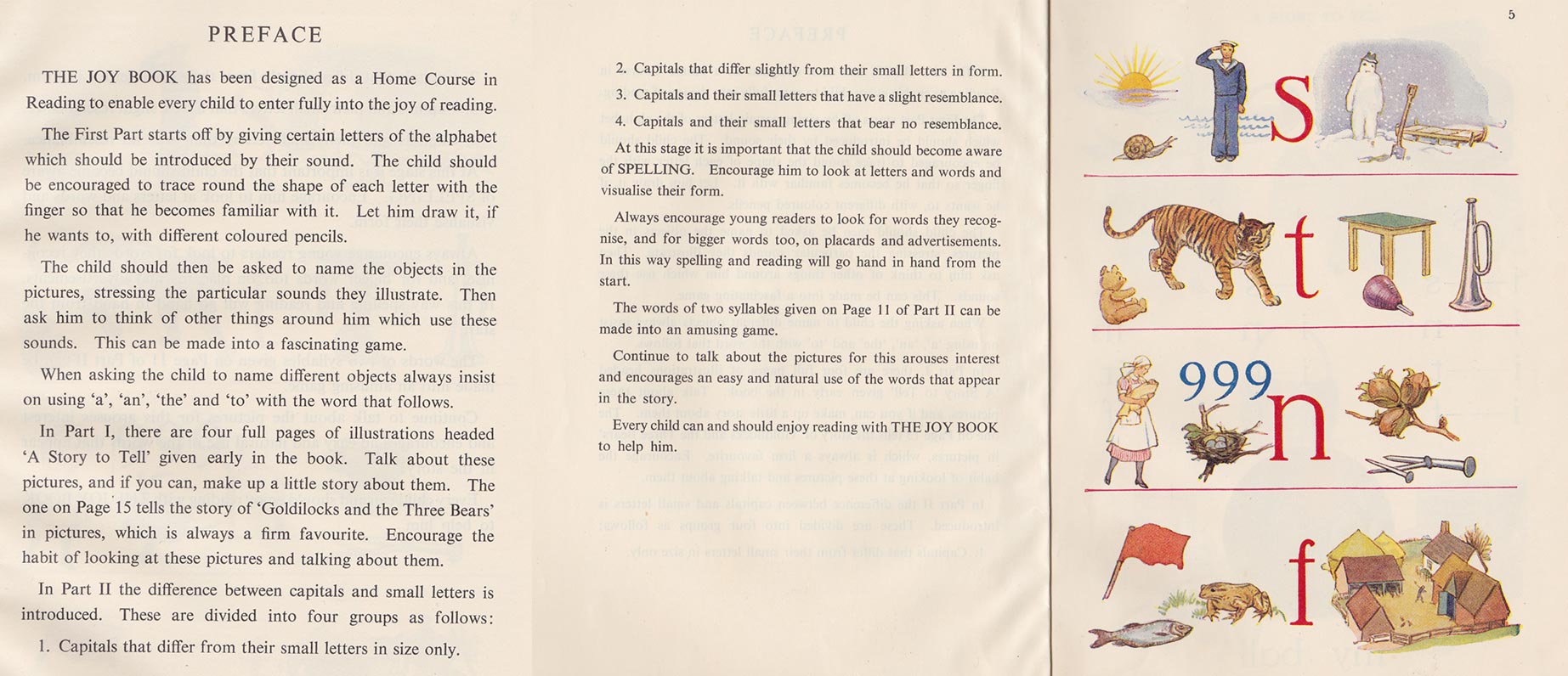 UPDATE: Margaret gets mentioned on a back of a postcard posted 14th April 1948 - Details on the Shere Historic Footbridge page
Victor Joseph Bertoglio

Tudor Cottage - Upper Street
Painter: Victor Joseph Bertoglio (1911-1974)
Medium: Watercolour (24 cm x 17 cm)
Bertoglio exhibited watercolour work at the Royal Academy Exhibition of 1950.
However,he was best known for being a noted book illustrator from the late 1940s through to the early 1970s. He was most prolific during the 1950s decade.
He also worked on the British comic annuals of the 'Eagle' and 'Swift'.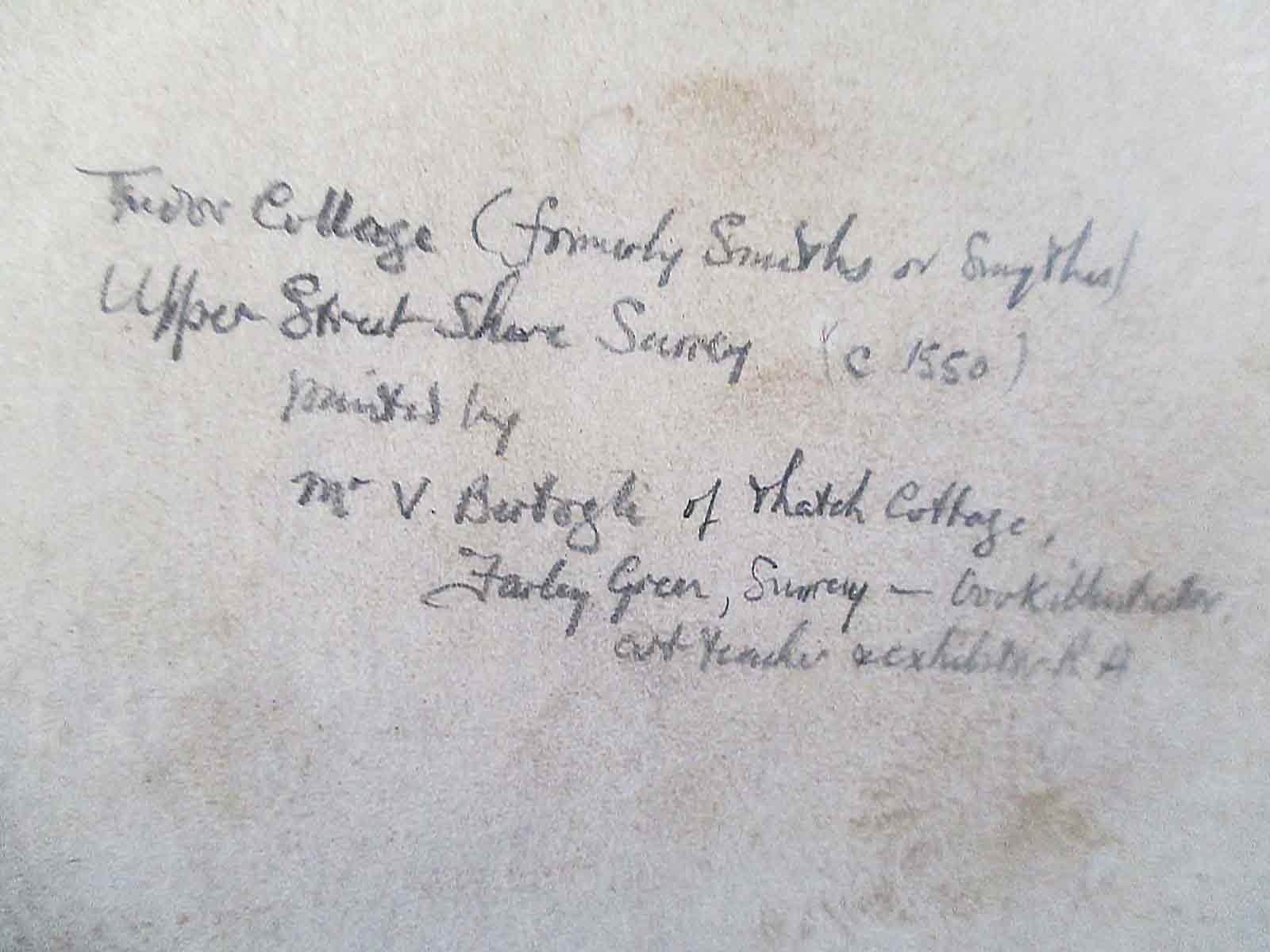 The above written in Pen on the back.
Victor Joseph Bertoglio was born in Hampstead, London on 6th July 1911. The seventh son of Petre Ermengildo Bertoglio, a waiter originally from Milan, and his English wife Helena Isabel, née Brand. Victor was educated at St. Martin's School of Art, and married Edith E. Emery in Islington in 1935. Along with designing Children's annuals, The Eagle and Swift, he also designed book jackets,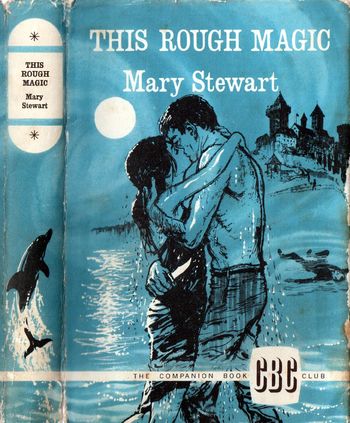 including for Mary Stewart's 1964 gothic romance novel This Rough Magic.(see above).
He died in Surrey in 1974 - source
Sample of books illustrated by Victor Bertoglio: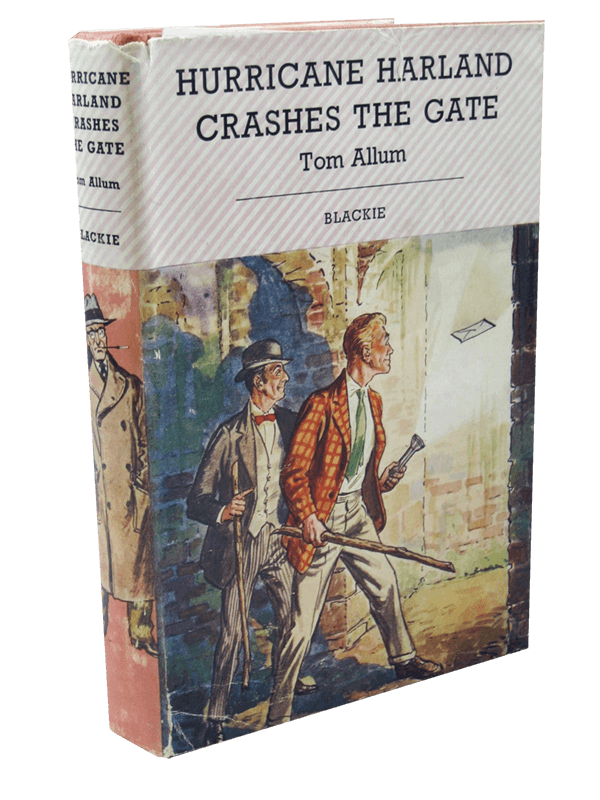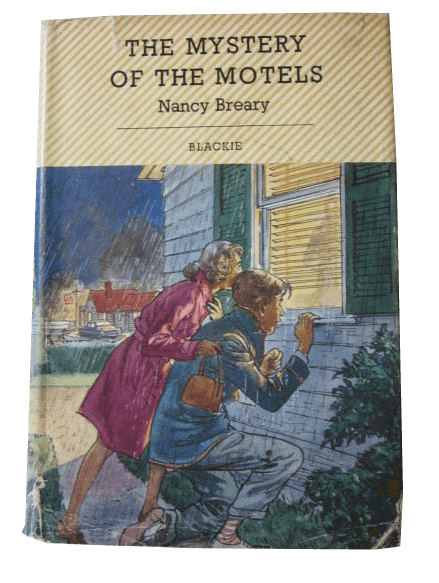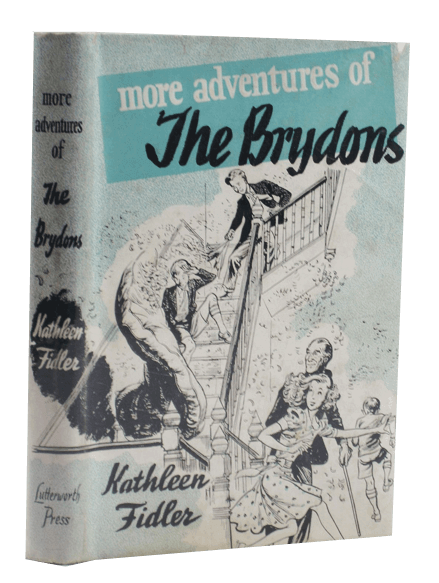 Artist Victor J Bertoglio at The National Archives

1957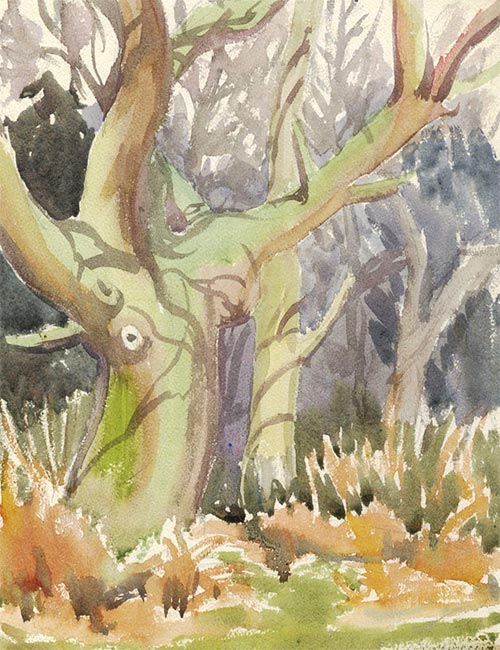 SHERE, SURREY - 1957
Painter: Jean M. Blair
Medium: Watercolour
1966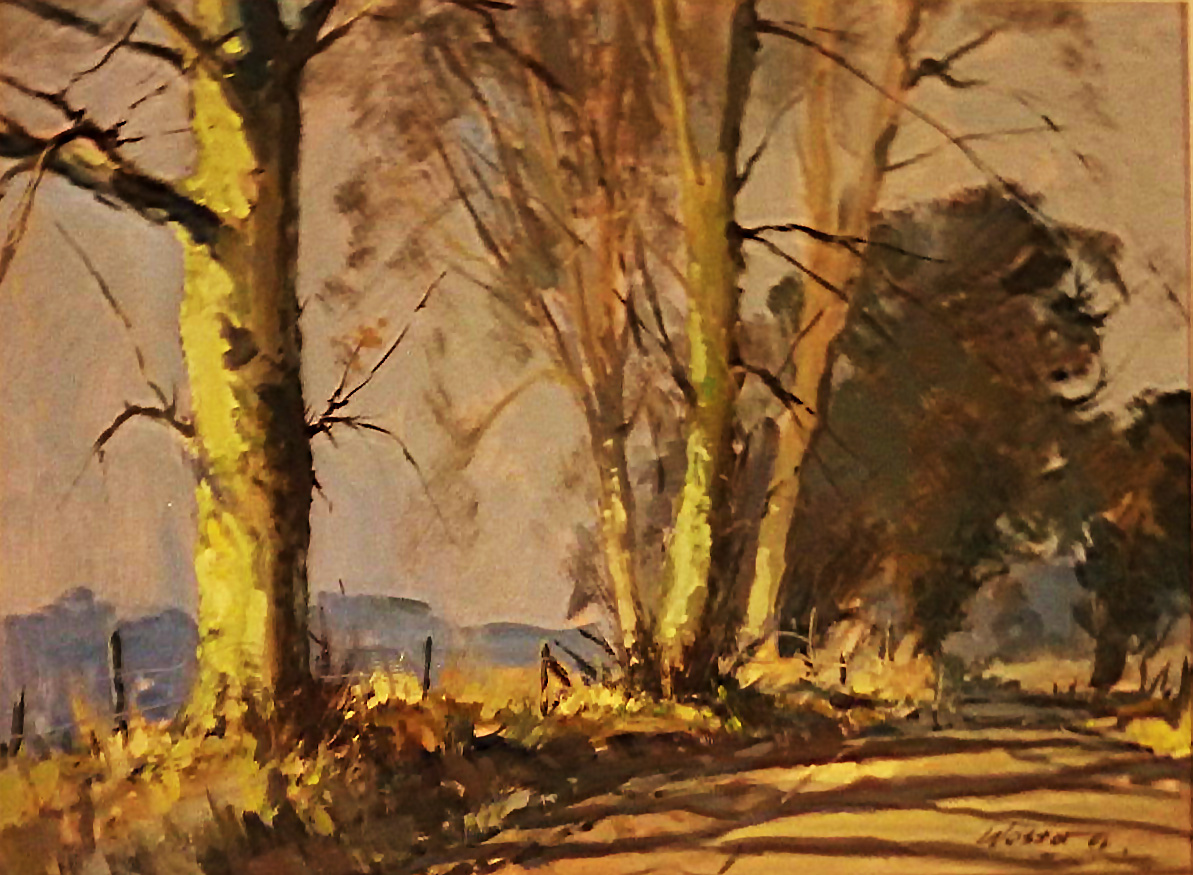 Winter Trees Shere - 1963
Painter: Edward Wesson (1910-1983)
Medium: Oil - 23.5 x 17"
1966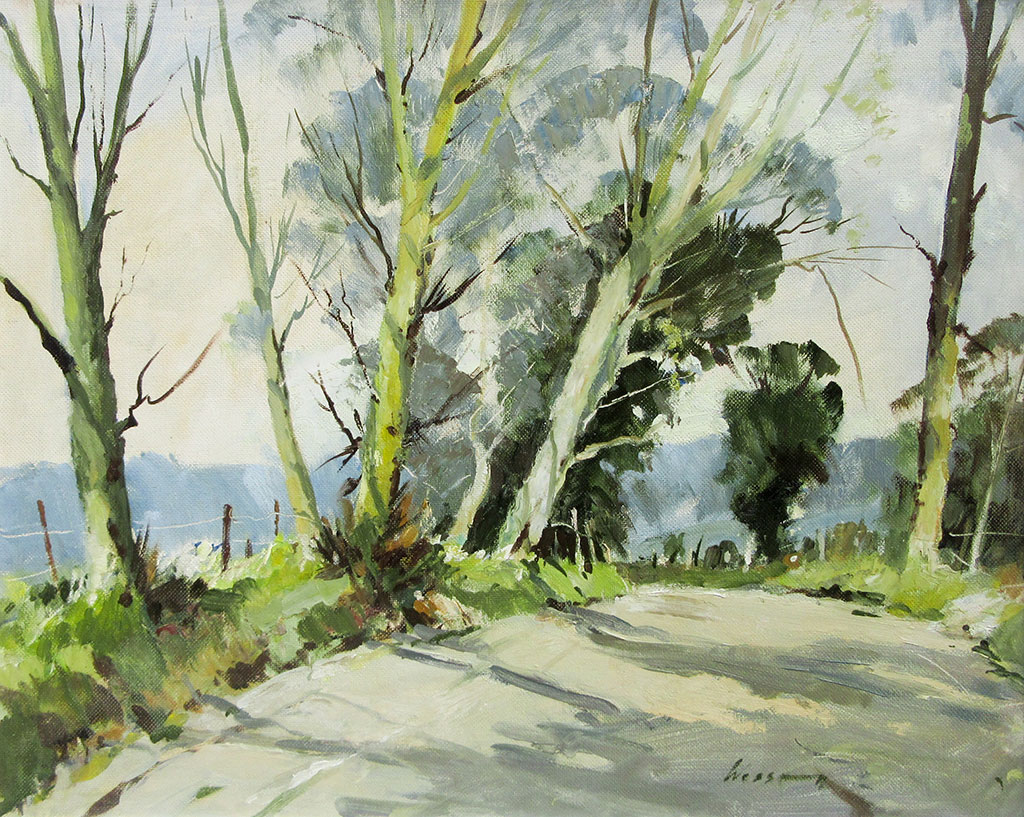 Winter Trees Shere - Similar date to the previous Edward Wesson painting above
Painter: Edward Wesson (1910-1983)
Medium: Oil - 30" x 24""
1978
The Post Office Shere, Guildford, Surrey - 1978
Used as the GPO (General Post Office) Poster (810mm x 570mm)
Painter: Martina Selway
Location: Upper/Middle Street
Denis H Somerfield

THE VILLAGE OF SHERE - Vine Cottage
Painter: Denis H Somerfield
Medium: watercolour
pre 1983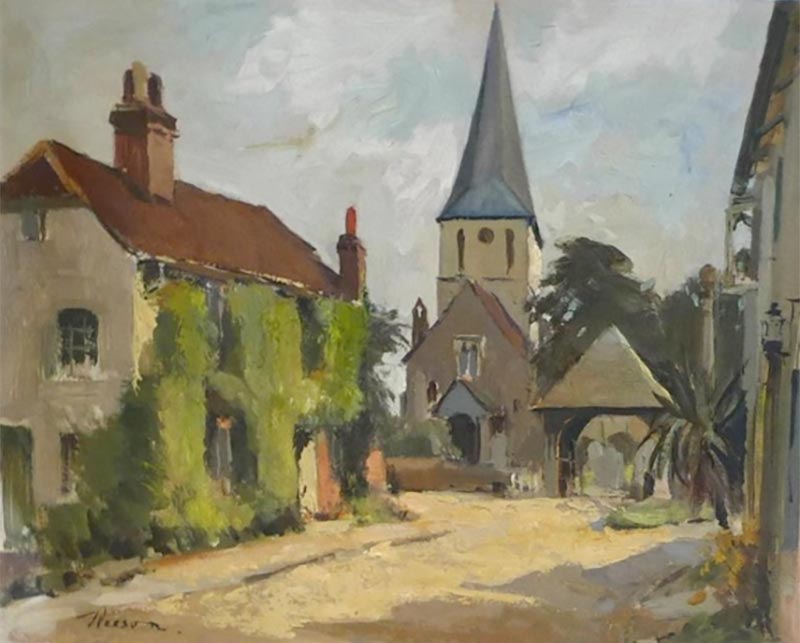 Church In A Village Setting
Painter: Edward Wesson (1910-1983)
Dimensions: 40 x 50 cm
Medium: oil on paper & watercolour
Auction Date: 
Aug 30, 2014
pre 1983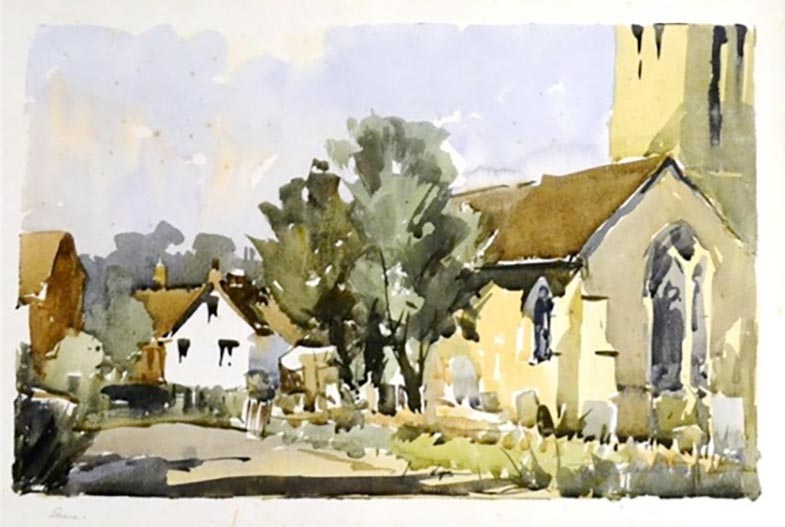 Church Lane, Shere, Surrey
Painter: Edward Wesson (1910-1983)
Dimensions: 
12.99 X 20.08 in (33 X 51 cm)
Auction Date: 
Aug 30, 2014
abt 1995 - Christine Scott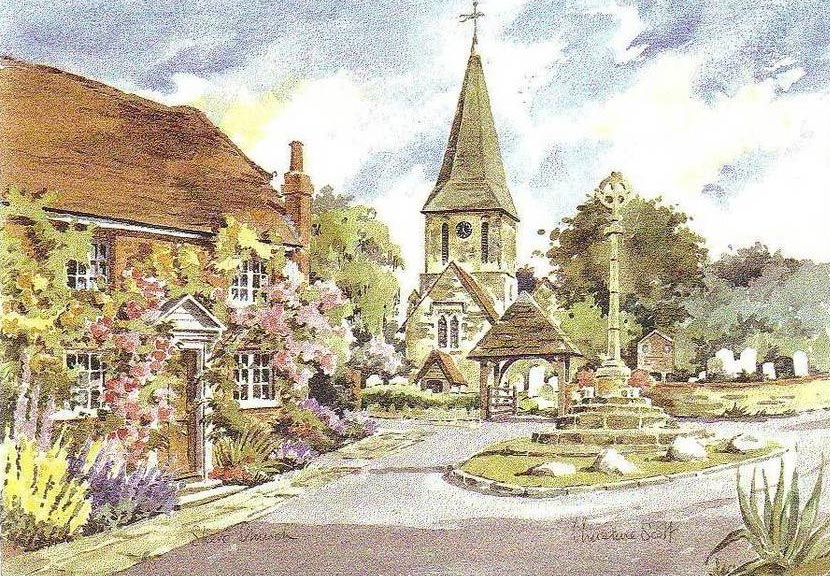 Surrey, Shere, St James Church
Painter: Christine Scott
Medium: Watercolour
Location: The Square
1995 - Christine Scott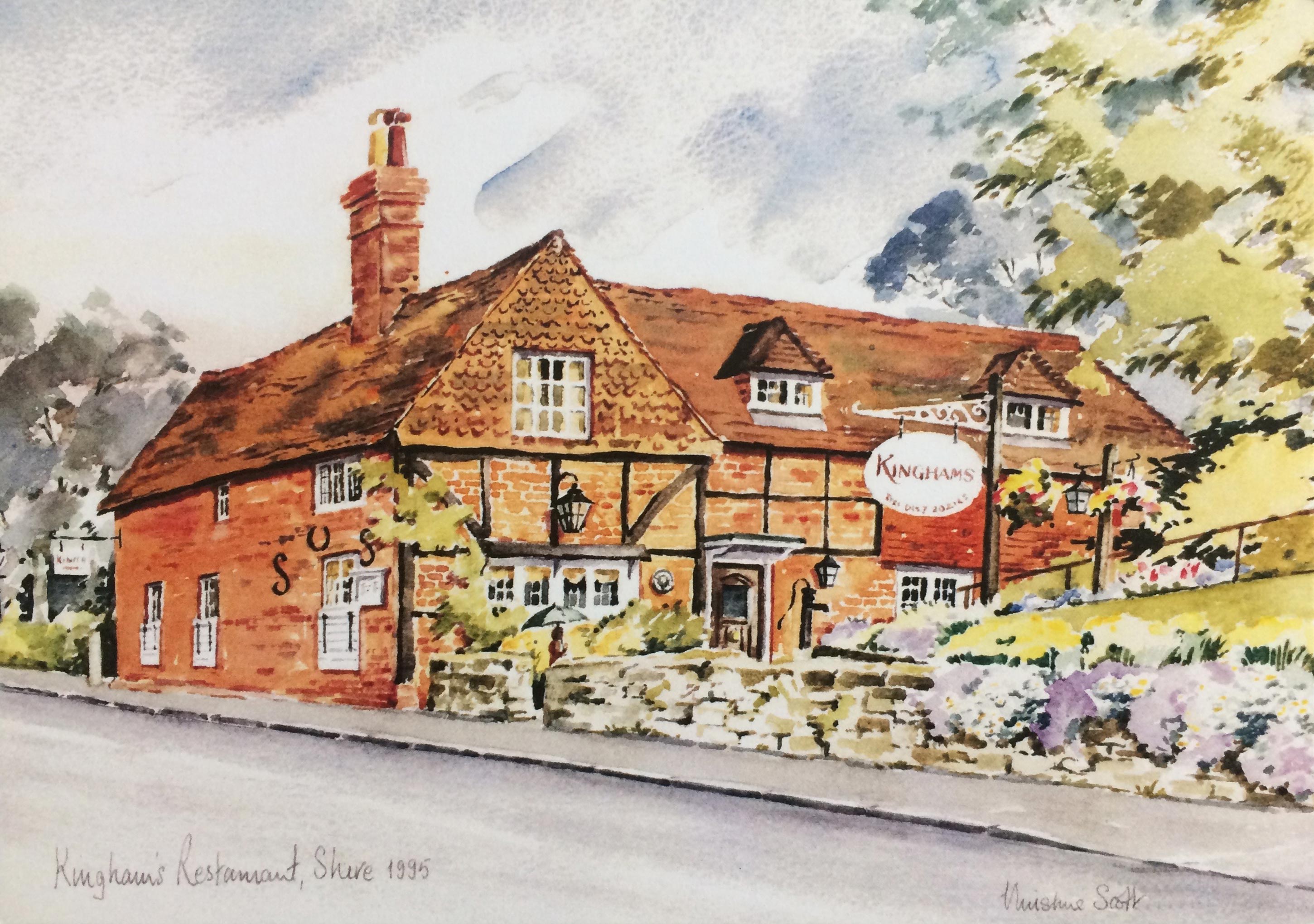 Kinghams Restaurant, Shere, Surrey
Painter: Christine Scott
Medium: Watercolour
Location: Gomshall Lane
Quick Links to Years: