Paintings of Shere
Before the age of the photograph, the only way of illustrating or describing a village, other than the writen word was through the medium
of paintings. Shere, it has been said, "is one of the prettiest villages in Surrey, often claimed by many as the most beautiful" and not
without reason. It is truly part of England's "garden". Quote by T. A. Wilkie (Surrey County Journal)
The following paintings show the village through the ages, painted in various mediums. Copyright remains with the artist, all rights reserved.
Shere Paintings / drawings arranged in Chronological date order...
...starting with oldest first - If you see any paintings that do not appear on this page, please drop me a line. Tristan Greatrex


Quick Links to Years:
2001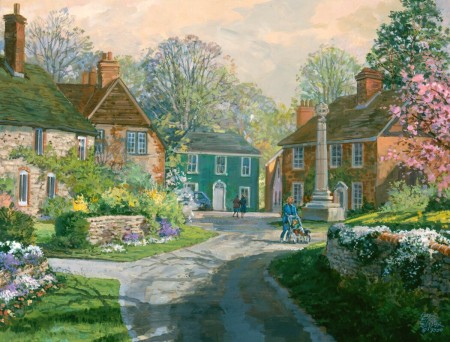 English Spring Morning, Shere, Surrey
Year: 2001
Original Size: 18" x 24"
Medium: Acrylic
Base: Masonite
Location: The Square in Shere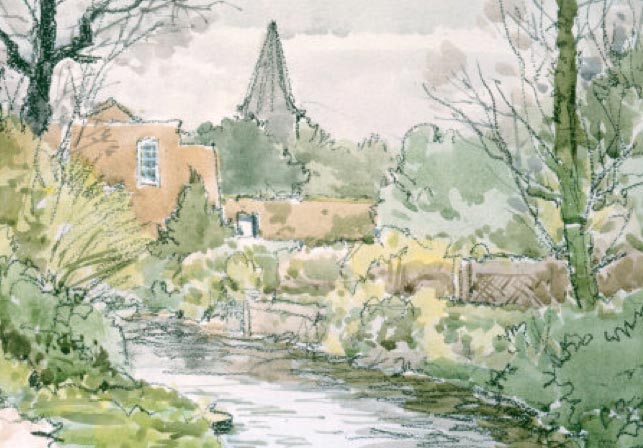 Small river through Shere, Surrey
I'm never sure what makes for "one of our beautiful villages of England". Peaceful and quiet with
many mellow-hued buildings is my view of this place. I could quite happily move into a flat beside
the river and paint myself crazy. Peter Etril Snyder
2003 - Steve Letchford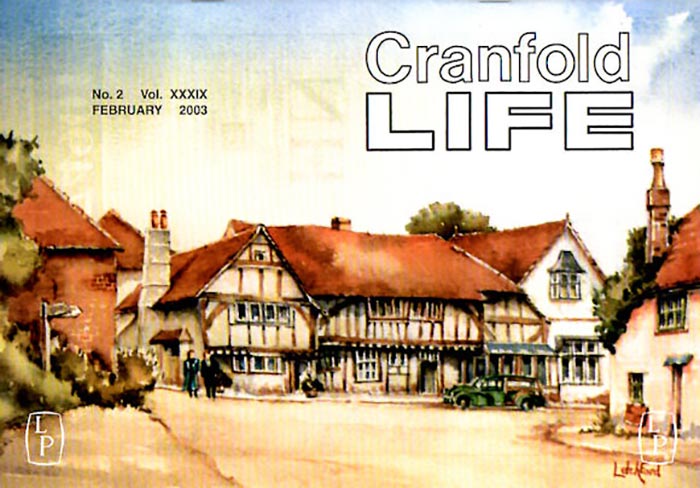 Steves painting made it onto the February 2003 Cranfold Life cover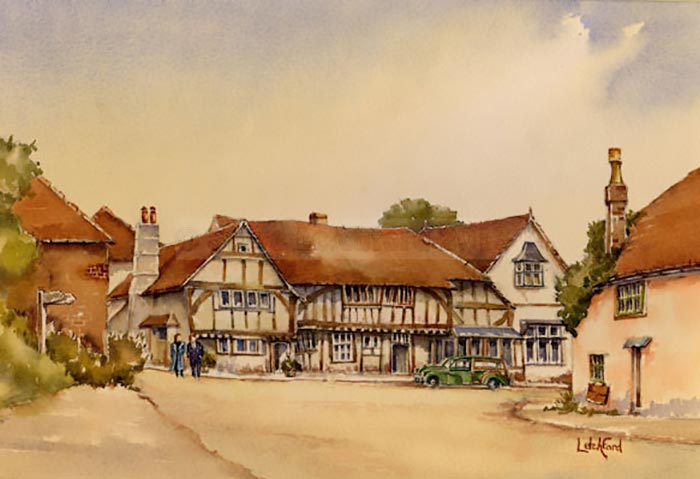 Middle Street, Shere
Here is the original painting used for the cover
painting 'c steve Letchford 2013'
Year: 2003
Painter: Steve Letchford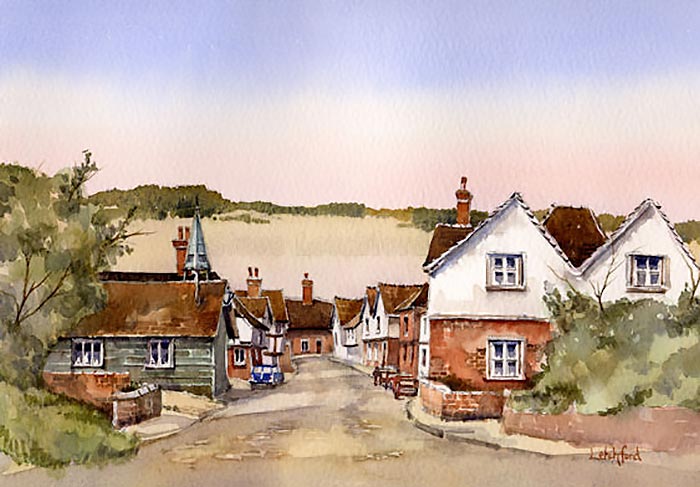 Middle Street, Shere
Looking back down Middle Street from the White Horse Pub -
painting 'c steve Letchford 2013'
Year: 2003
Painter: Steve Letchford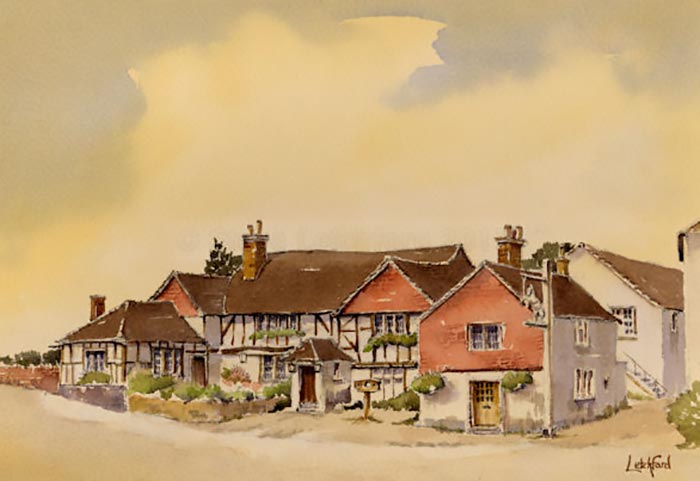 White Horse, Shere
painting 'c steve Letchford 2013'
Year: 2003
Painter: Steve Letchford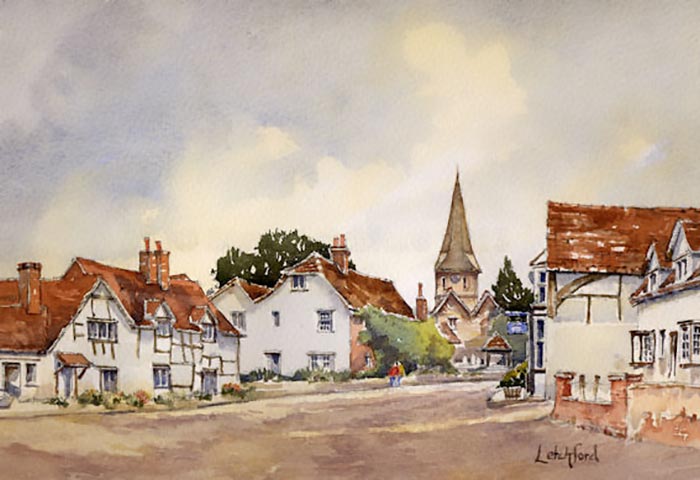 St. James, Shere
Looking towards the Church and The Square from The White Horse
painting 'c steve Letchford 2013'
Year: 2003
Painter: Steve Letchford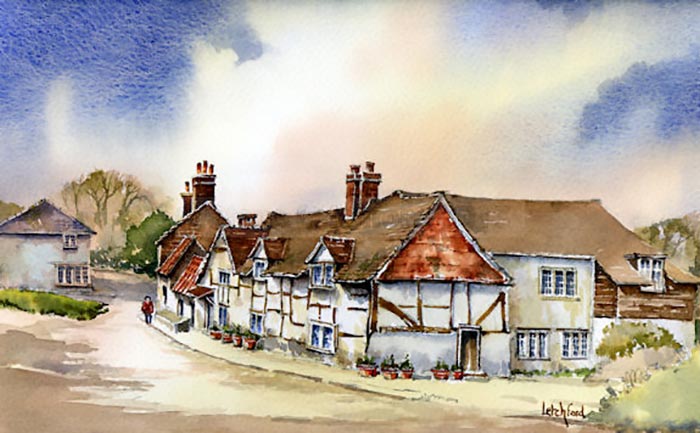 Old Way, Shere
Looking back from the Church towards Lower Street
painting 'c steve Letchford 2013'
Year: 2003
Painter: Steve Letchford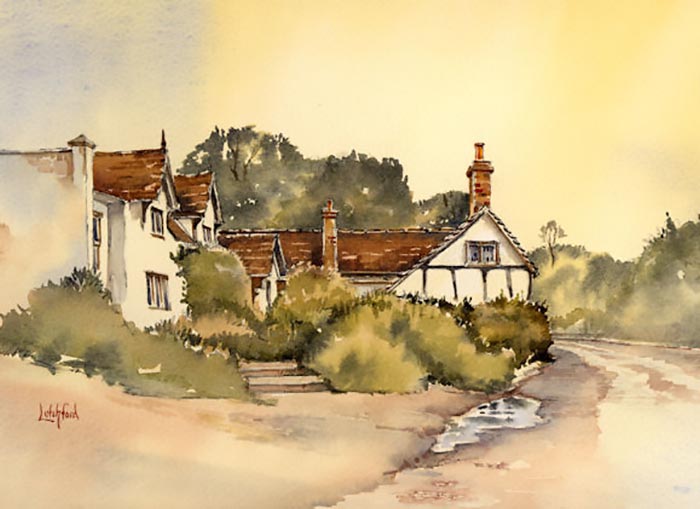 Laras, Shere
painting 'c steve Letchford 2013'
Looking down Gomshall Lane with Seaforth in the foreground and Kinghams
Year: 2003
Painter: Steve Letchford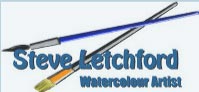 Steve is an amazing painter and thanks to him, he has allowed us to enjoy his 'Shere' paintings.
Thanks Steve for all your support - You can order prints by visiting Steves website
2011 - Roz Wilson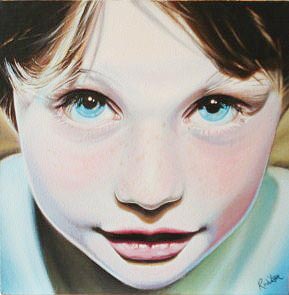 ICANDI
Artist: Roz Wilson
Location: The Forge, Middle Street, Shere
Shere artist Roz Wilson has an eye for the fast Lane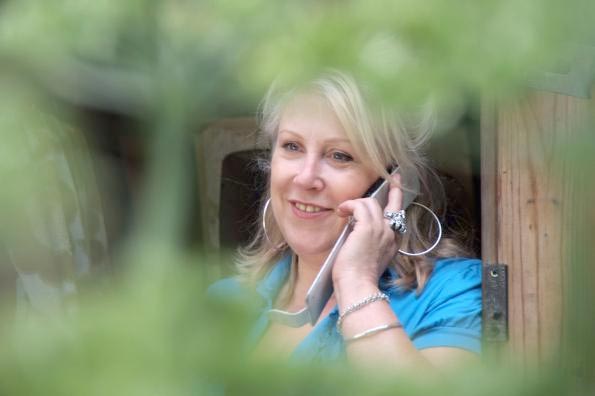 Despite living among the peaceful country lanes of Burrows Lea, near Shere, Roz Wilson is an artist with an eye for the fast lane.
While she will tackle any portraiture that appeals, it is her petrol tank art that really makes her stand out. Winner of numerous art awards at motorcycle shows over the year, she also paints the Harley-Davidson of London's Hard Rock Café, which is used for promotional events every year.
"One of my works, which featured a portrait of Eric Clapton and one of his guitars, was even signed by the man himself," says the 52-year-old.
"I have always been creative, taking after my Dad who encouraged me to try painting and drawing from an early age. I went on to do a graphic design course for three years, which is where I learnt my skill in producing highly detailed work before the advent of computers!"
Exaggerated versions of reality, Roz's works amplify the vibrancy of what she sees before her, while still capturing the intricate details.
It's not all fast cars and bikes though, and the relaxed pace of rural life can prove just as inspiring.
"I love the Surrey Hills," she says. "The walk down from Burrows Lea, where I live, into Shere across the fields always makes my heart soar and
reminds me why I have settled here."
Roz sold many works at Chris Evans' charity CarFest this summer, and is now hoping to hold a show at the AC Heritage showrooms at
Brooklands Museum.
2013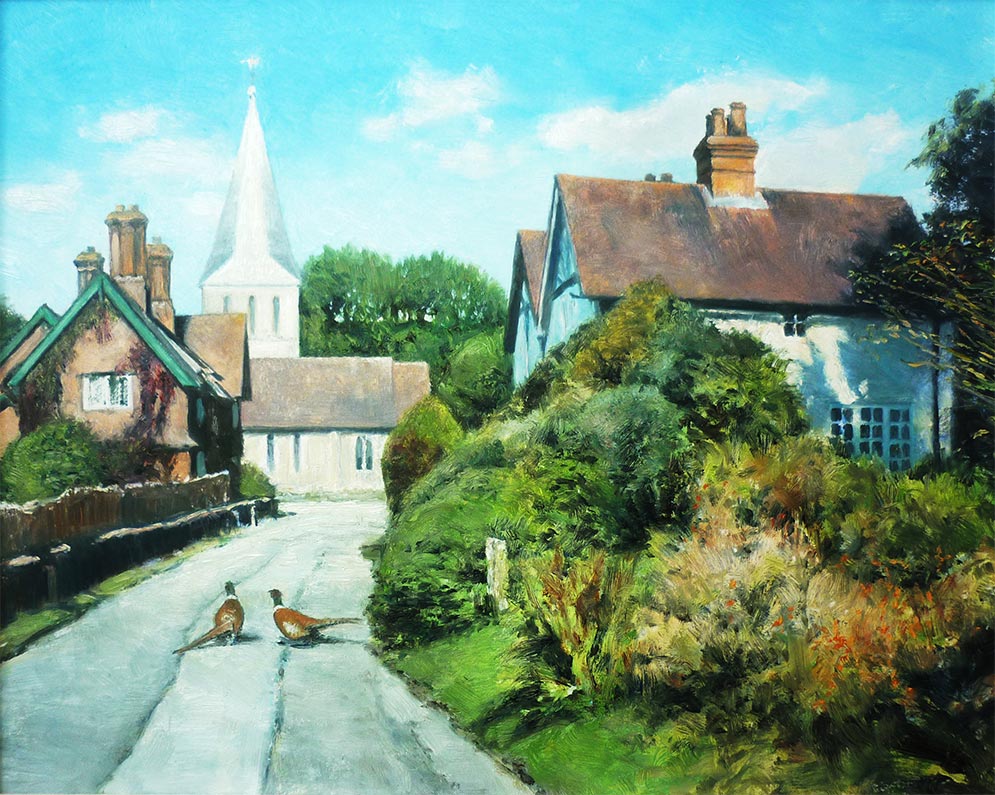 Church Hill, Shere, Surrey
Year: 2013
Medium: Oil
Painter: David Deamer

David with many other artists from the county will be showing the above painting in an exhibition at Denbie's Vineyard for the first two
weeks of November.

DATES: 28th October until 10th November. This is a group exhibition where David will be showing with nine other painters
MORE INFORMATION
2013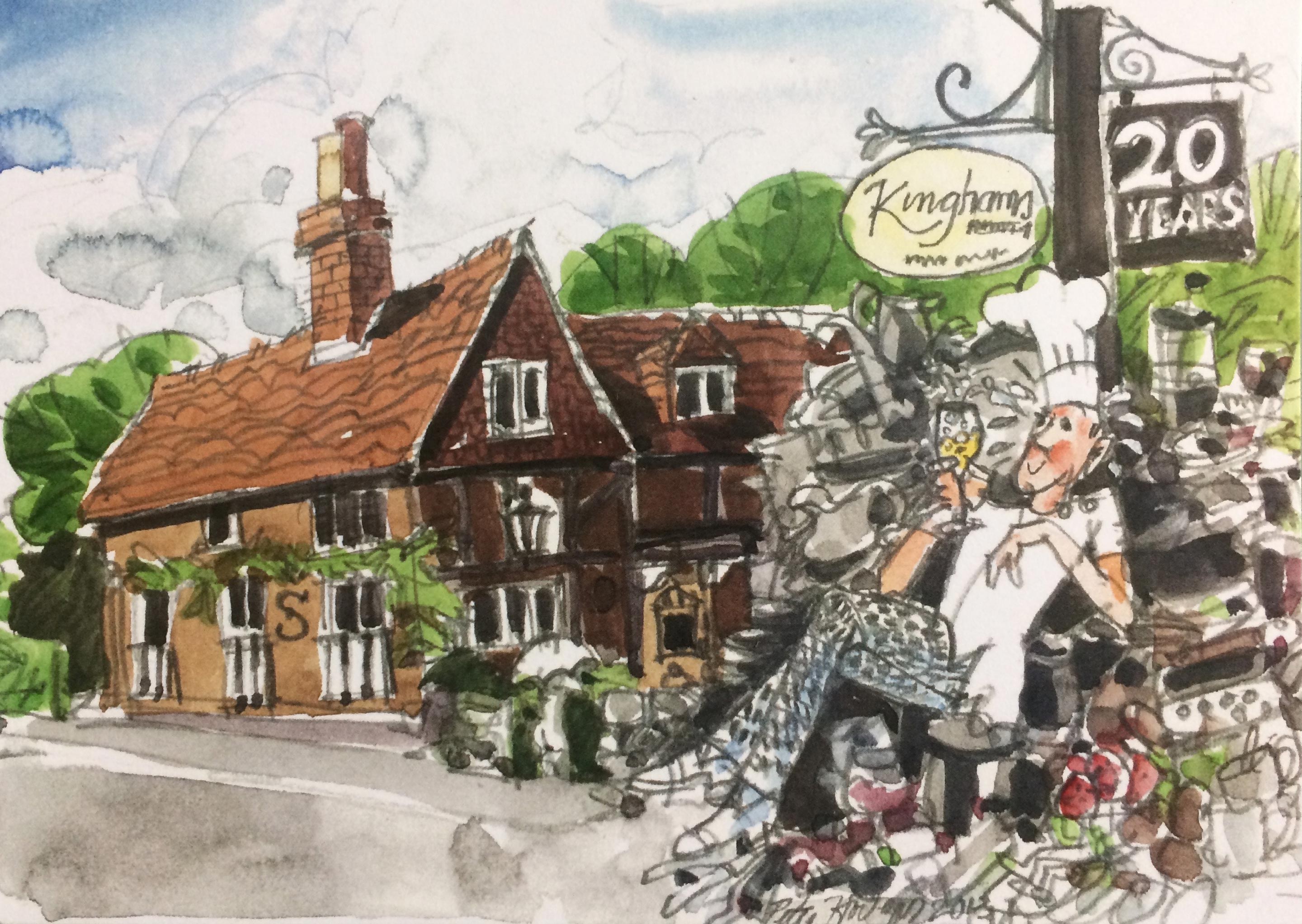 Kinghams Restaurant 20 years
Painter: Anyone know? - can't read the signature
Gomshall Lane
2013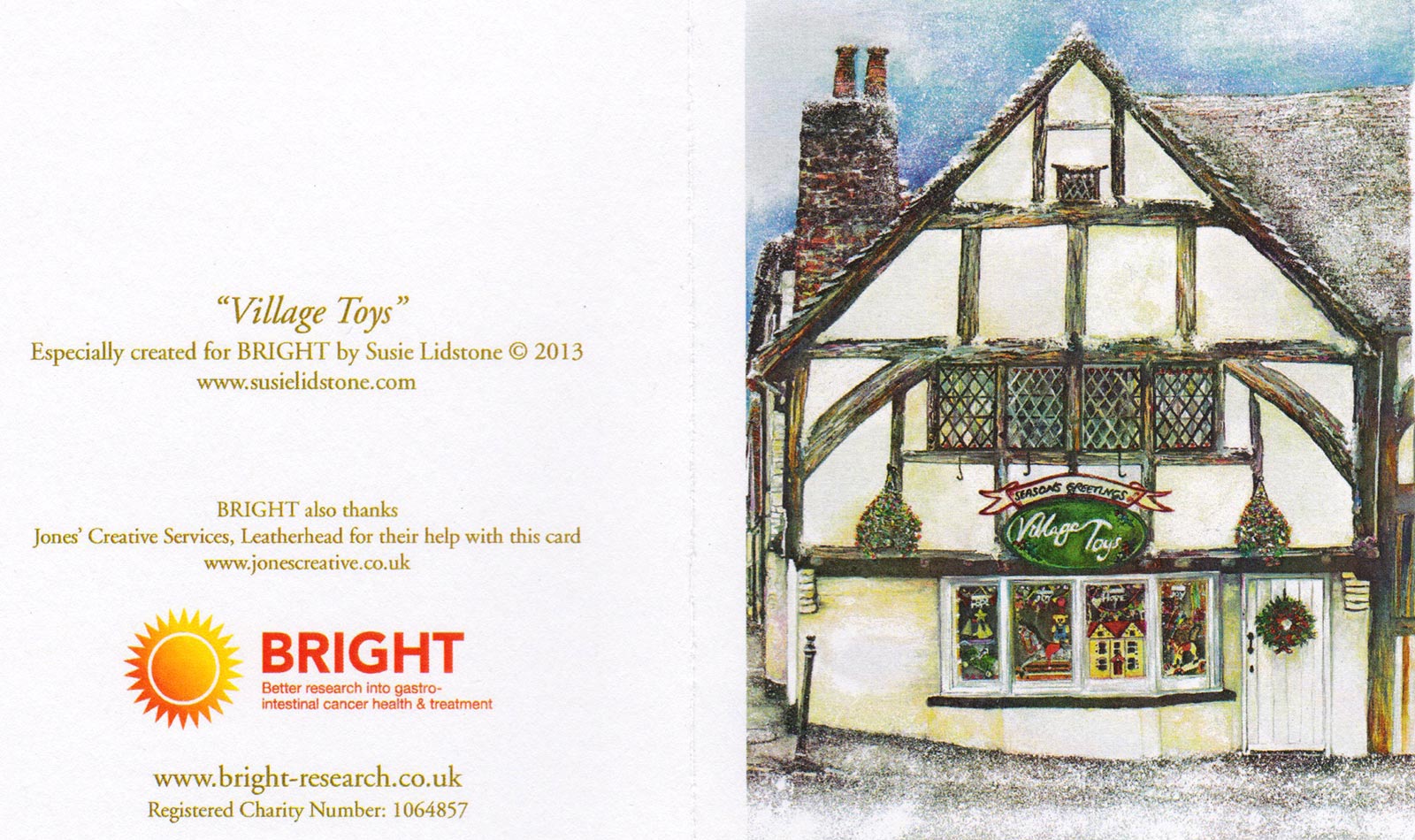 Village Toys
Painter: Susie Lidstone
BRIGHT RESEARCH
2014

THE CHUrCH AT SHERE - 2014
Painter: Michael Trask
Medium: Here is a view of Shere Church on a sunny late summer's day. This is not far from Guildford and London in a lovely part of the Surrey countryside.

Still using up some odd sized pieces of Bockingford Rough so this is a non-standard size - about 15 x 9 in. Incidentally - I based this on a winter photo with all the fields covered in snow and bare trees. So I had to imagine what it would look like in summer.
2014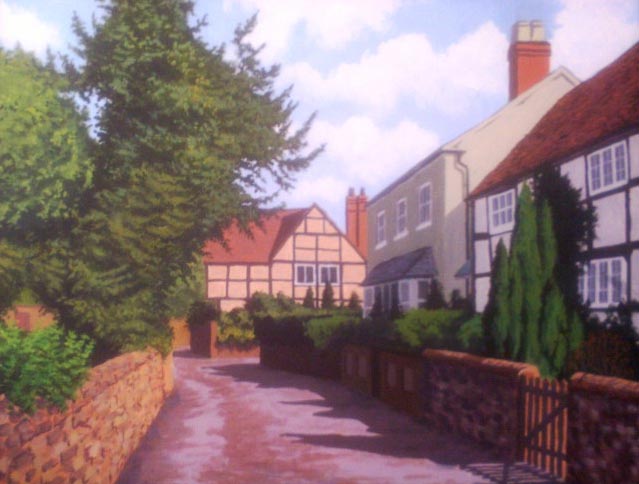 Shere Village - 2014
Acrylic Painting (50cm x 40cm)
Painter: David Hanson
Location: Lower Street
2015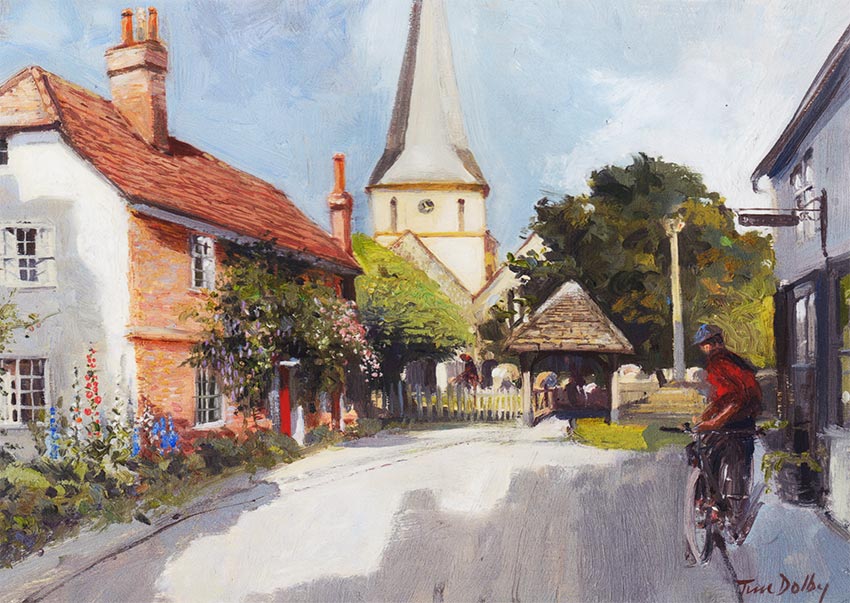 The Square - Shere
Painter: Tim Dolby
Medium: Oil painting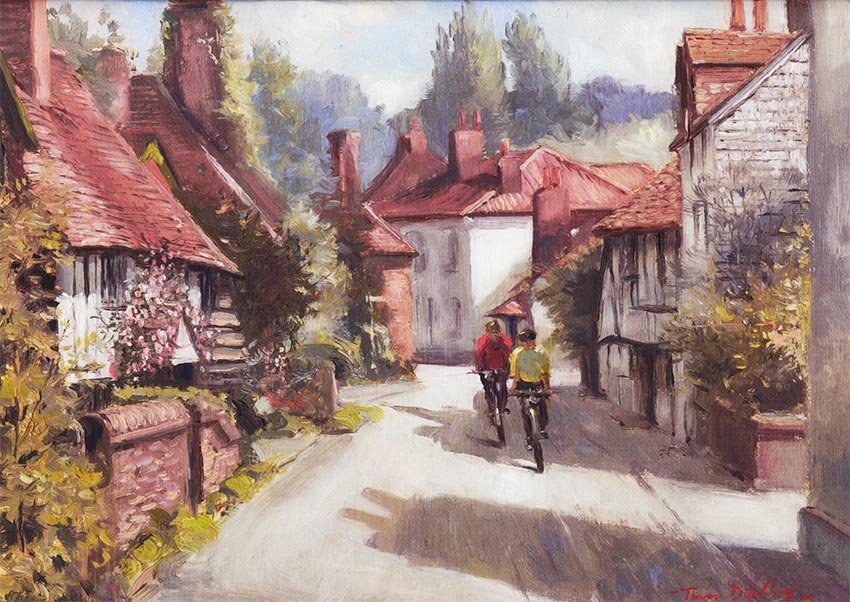 Upper Street - Shere
Painter: Tim Dolby
Medium: Oil painting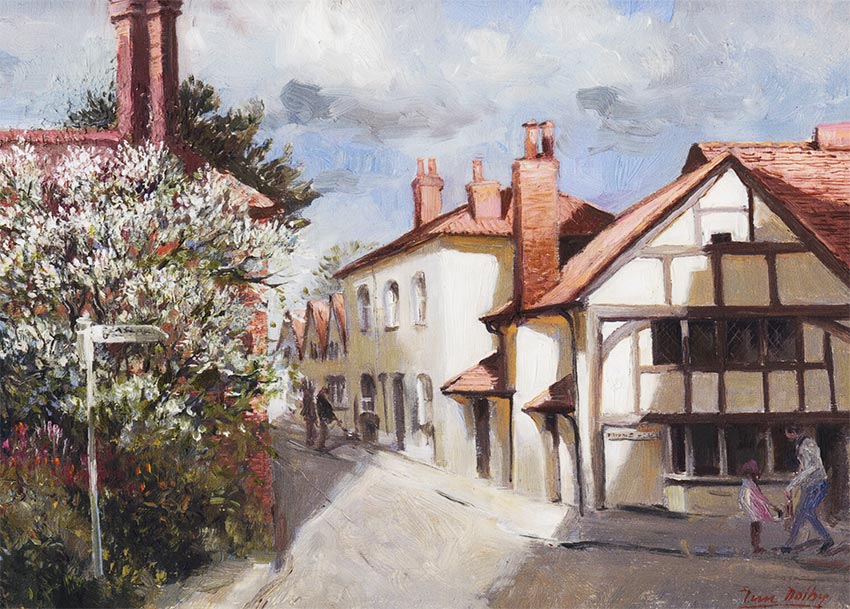 Crossroads - Shere
Painter: Tim Dolby
Medium: Oil painting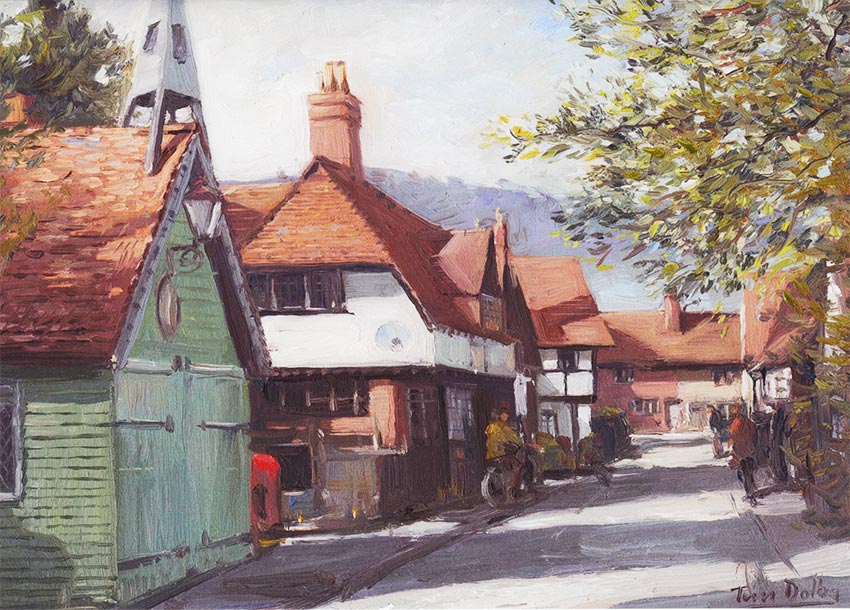 Middle Street - Shere
Painter: Tim Dolby
Medium: Oil painting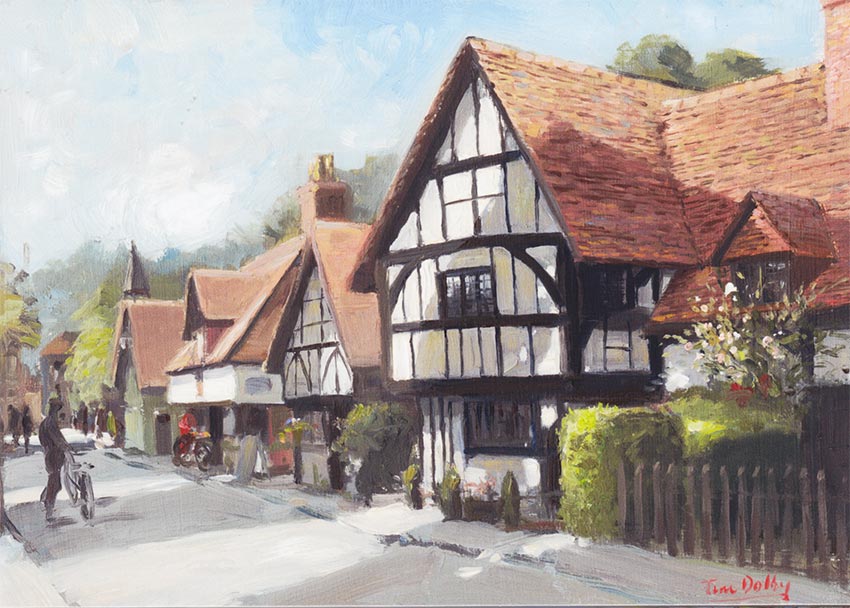 Middle Street - Shere
Painter: Tim Dolby
Medium: Oil painting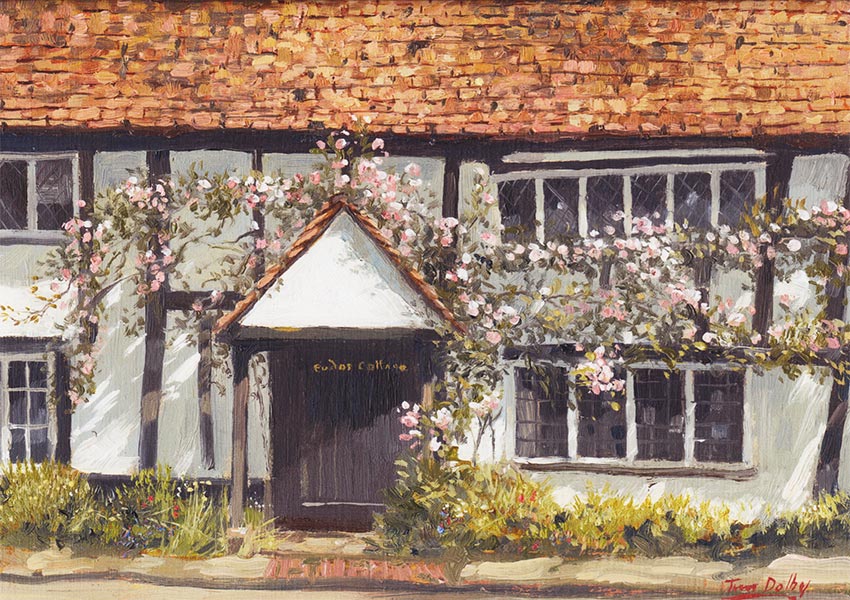 Tudor Cottage - Shere
Painter: Tim Dolby
Medium: Oil painting
The above paintings are ©2015 Tim Dolby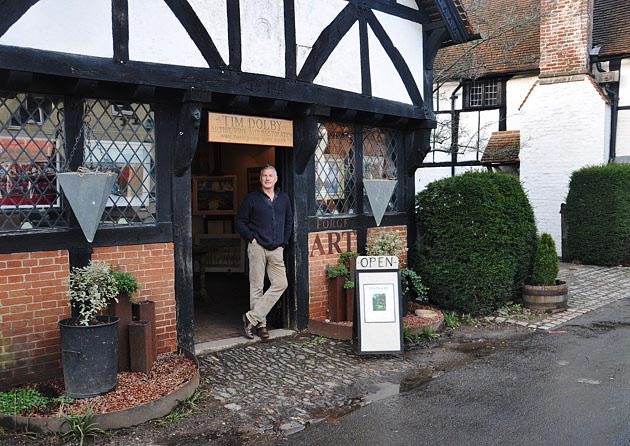 Article in the March 2015 issue
Tim was based at The Forge in Middle Street Shere but has now relocated to Dorking - see below.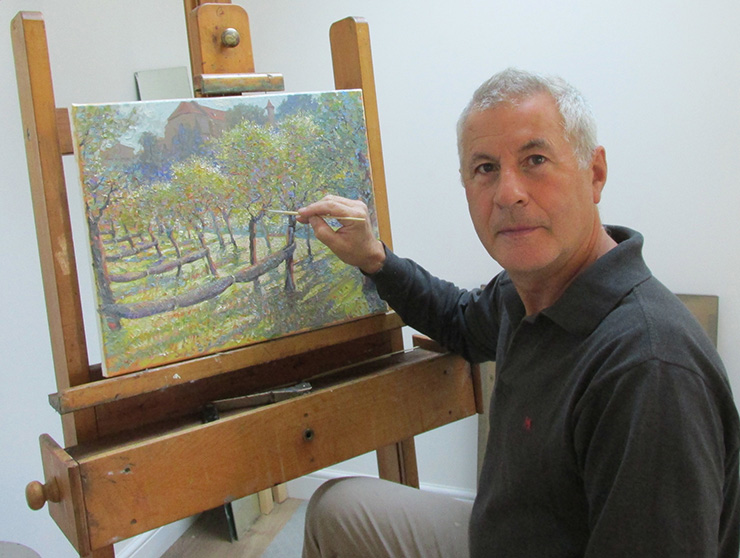 October 2015
Tim has relocated to a new studio in Dorking, Surrey. The old studio gallery in Shere is now closed.
Tim was born in Surrey in 1954. He began painting in his early teens and has spent his life developing his skills as a picture restorer and as an artist of oil paintings, watercolour paintings, miniatures and mural paintings. He also restores painted panelling and mural paintings.
Tim studied picture restoration and conservation under the tutelege of John Brangwyn, conservator of paintings at Hampton Court.

Since then Tim has been running his own picture restorer and artists studio which is now located in Dorking, Surrey.
He has exhibited several times at the Royal Academy Summer Exhibition, The Miniature Society, The Marine Society, The Royal Society of Portrait Painters and the Institute of Watercolour Painters.
Through the years he has exhibited fourteen one man shows including one in Paris and has won the Pro Art prize for painting at Discerning Eye Exhibition in the Mall Galleries. He has a keen eye for detail and feel in a painting. See Tim's online gallery.

Tim specializes in miniature painting, particularly watercolour on vellum which stems from the fine and detailed work he does as a picture restorer. Still life miniatures in the traditional genre are a mark of his work, with the observation of detail in the minute brushstrokes picking up every nuance of light and colour. He also creates larger watercolours which are exemplified in his Paintings of Venice.
Tim will undertake art commissions for country house portraits, including beautifully detailed paintings no bigger than the palm of your hand in a watergilded frame that he designs and makes himself.
Recent commissions have included large scale Mural Paintings some being in the Trompe L'Oeil style.
Landscape paintings also feature in Tim's work and these have been painted in Watercolour, Oils and more recently, contemporary landscape paintings as abstract forms in acrylics.
Working in painting restoration and as an artist has provided Tim with the skills to produce painted film props. He has painted in 15th Century, Victorian, Impressionistic, and many other styles for television and film productions. Tim also undertakes painted antique restoration and the creation of painted period reproductions.

More recently he has been experimenting in new mediums creating glass art pictures and also using the old technique of Verre Églomisé. This technique combines Gilding on the back of glass with enamel paints which produces a depth of colour unobtainable in other ways.
December 2016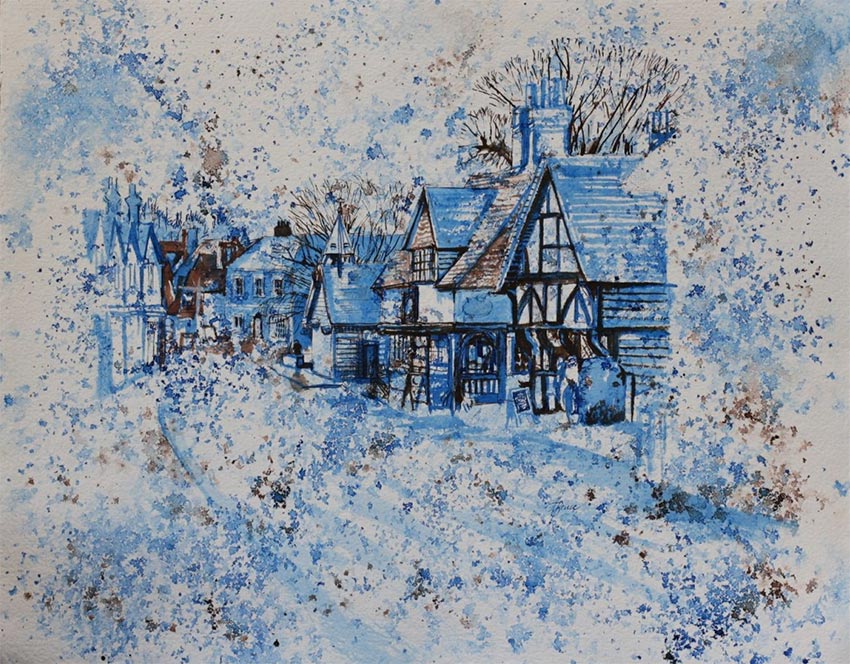 Shere Village - 9th December 2016
Painter: Hannah Bruce
Location: Middle Street
Medium: Ink on two rivers hand made watercolour paper.
FOR SALE: £190
| | |
| --- | --- |
| | |
| Hannah at her easel | |

December 2016
Shere Village - Painted on the same day (9th December 2016) as the above painting by Hannah Bruce
Painter: Rick Holmes
Location: Lower Street looking towards 1, The Square
Medium: Pastel
Size: 18" h x 13" w

SELLING: £250 (Unframed )

2016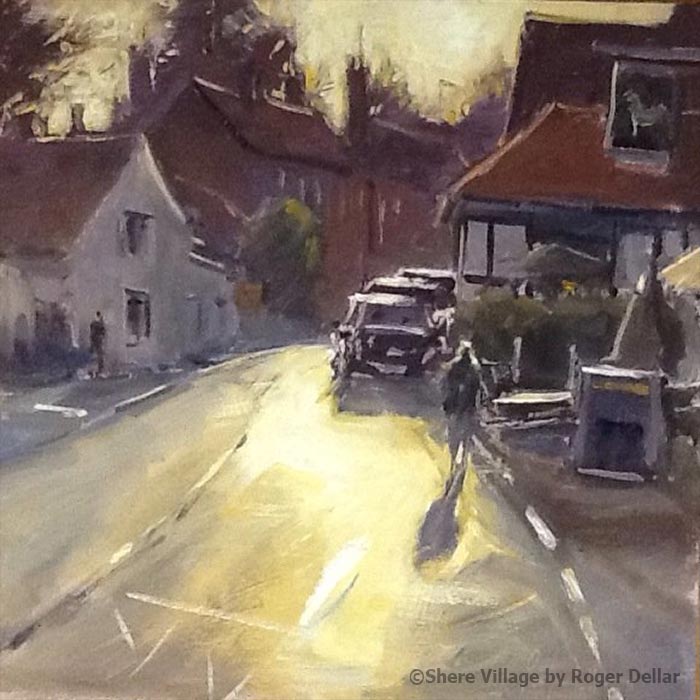 Shere Village
Painter: Roger Dellar
Location: White Horse Inn looking up Shere Lane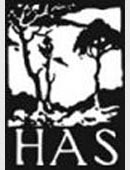 Honorary President of Haslemere Art Society, Roger Dellar started the 'Surrey Hills Plein Air Painters' group in the Autumn of 2016 which is now going from strength to strength - READ MORE

Quick Links to Years: